4 Fantastic Used SUVs for Chapel Hill Families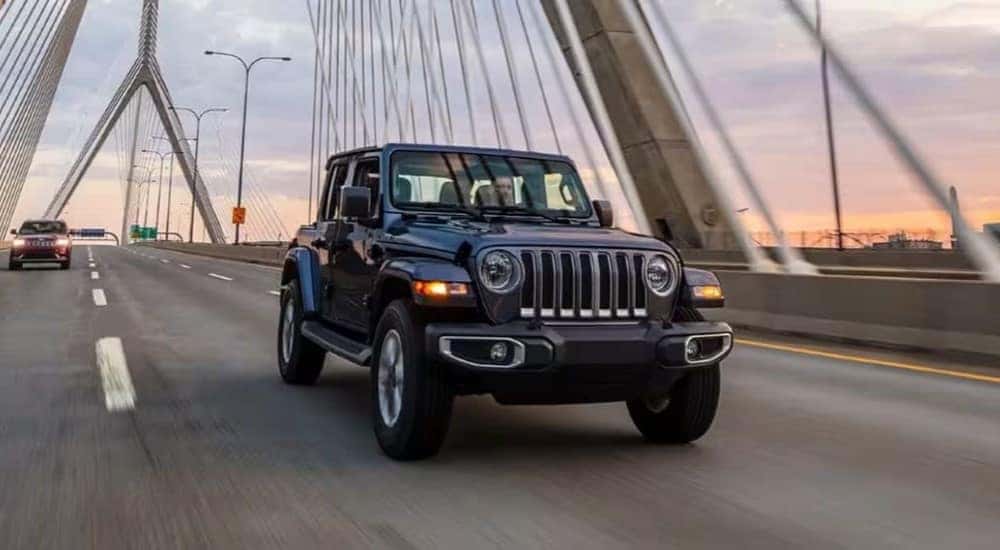 Strength and versatility are absolute necessities in an SUV that can be used for both daily life as well as outdoor fun and adventure. When you're driving with the whole family in tow, you also need a vehicle that is sure to be reliable and safe so that you and yours can get out there and enjoy the excitement of life with peace of mind. We're passionate about helping families find vehicles that fit them just right, so if you're looking for used SUVs near Chapel Hill, CBS Quality Cars is exactly the dealership you're looking for.
But which SUV is right for you? Buying a new car can be a difficult task to go about, especially in today's world, where price tags seem to be getting higher and higher. This is where buying used can come in handy, as used vehicles are more economical for drivers who don't want to break the bank with their new car.
Buying a used vehicle can be nerve-racking for some. It can cause anxiety that the car you choose won't be in good shape, may need lots of maintenance, or otherwise won't last as long as you need it to. Here at CBS Quality Cars, we do everything we can to dispel these fears. At our dealership, we only carry the highest quality used vehicles that will be sure to afford families years of enjoyment. Being a used SUV dealer, we thoroughly believe that used cars can make for some of the best additions to people's lives. But which makes and models should you consider to narrow down your search? Let's take a look at four used SUVs that we think Chapel Hill families could benefit from most.
#1 – Jeep Wrangler Unlimited
Jeep has always been a household name when it comes to vehicles that afford excitement and adventure. For thrill-seeking families, there's no better brand than this one, and the four-door Jeep Wrangler Unlimited is a particularly impressive used SUV that can bring five riders endless fun.
Powered by a standard 3.6-liter V6 engine with 285 hp since 2012, the Wrangler has the firepower a high-performance SUV needs to take on any situation. With suspension tuned to handle off-roading and standard four-wheel drive, families can take their outdoor adventures off the beaten path in bold, unprecedented ways. This makes the Wrangler perfect for exploring some of the beautiful outdoor areas of Chapel Hill, such as Carolina North Forest or Johnston Mill Nature Preserve.
Newer Jeep Wrangler models also come with a whole host of safety features that allow you to drive up to four passengers around with comfort and confidence. Available tools such as Forward Collision Warning, Adaptive Cruise Control, Blind Spot Monitoring, and Rear Cross Traffic Alert help to keep those in the driver's seat in control at all times.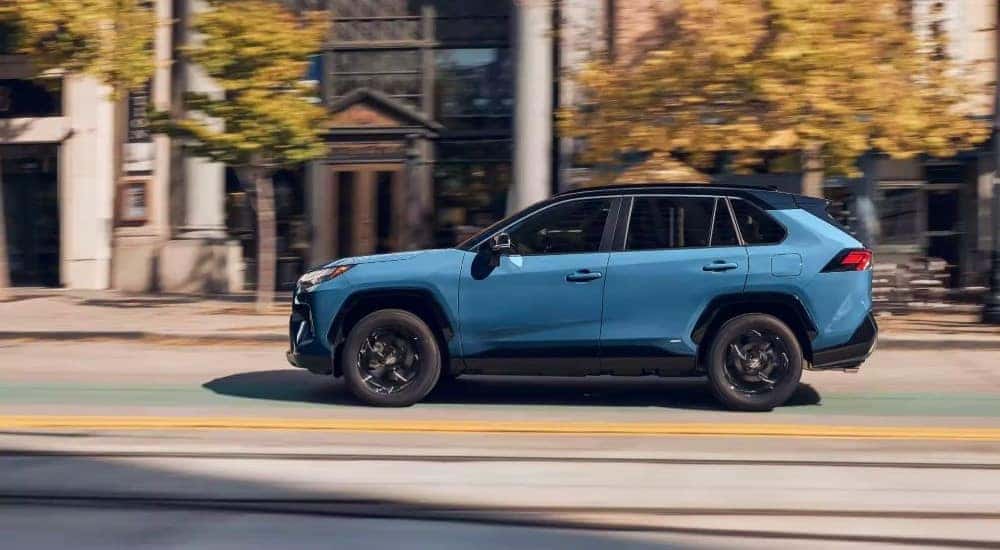 #2 – Toyota RAV4
If you're looking for a dependable used SUV that is sure to last you for years and years to come, the Toyota RAV4 is the SUV for you. The RAV4 has made quite a name for itself as an affordable compact SUV that offers plenty in the way of comfort and convenience, making it a great choice for families.
In terms of what it's packing under the hood, the Toyota RAV4 has come with a 2.5-liter four-cylinder engine that produces 203 hp since 2018, making it a steady, well-rounded ride for families who want a sporty experience that will still let them see the sights. This engine works in tandem with an eight-speed transmission that keeps the RAV4 smooth, nimble, and efficient, perfect for the bustle of a college town such as Chapel Hill.
The Toyota RAV4 seats up to five passengers, but if you're traveling with a lighter group and need more storage space, the RAV4 has you covered. With the backseats in the raised position, the fifth-generation Toyota RAV4 has 37.6 cu.ft. of space, but if you need more, you can simply lower the back seats to get up to 69.8 cu.ft. of space, making it a fantastic vehicle for camping and other outdoor events. Whether you're taking on a busy day in Chapel Hill or hiking the trails of the North Carolina woodlands, the RAV4 has your back.
#3 – Audi Q5
For families looking for an SUV that blends style and luxury, look no further than the Audi Q5, which features an opulent interior and exterior that will turn heads from Durham to Raleigh while delivering on safety and efficiency. Used Audi models are a high-value pick, as they offer drivers a luxury feel in their vehicle without coming with a luxury price tag.
The Audi Q5 was redesigned in 2018 with a high-tech interior that is sure to make anyone on board feel important as well as cozy. With features such as a 12.3-inch digital driver display and an infotainment system with handwriting-recognition technology, drivers and passengers can stay connected with their favorite forms of entertainment.
The Audi Q5 also touts a more than impressive fuel economy, making it perfect for practical, everyday use, especially for drivers juggling various family activities. With an EPA estimated fuel efficiency of up to 23 MPG in the city and 27 MPG on the highway, making for a total of 25 MPG combined, the 2018 Audi Q5 is more than just a fancy-looking SUV. It can help keep families on the road longer without tossing tons of money down the drain on frequent trips to the gas station.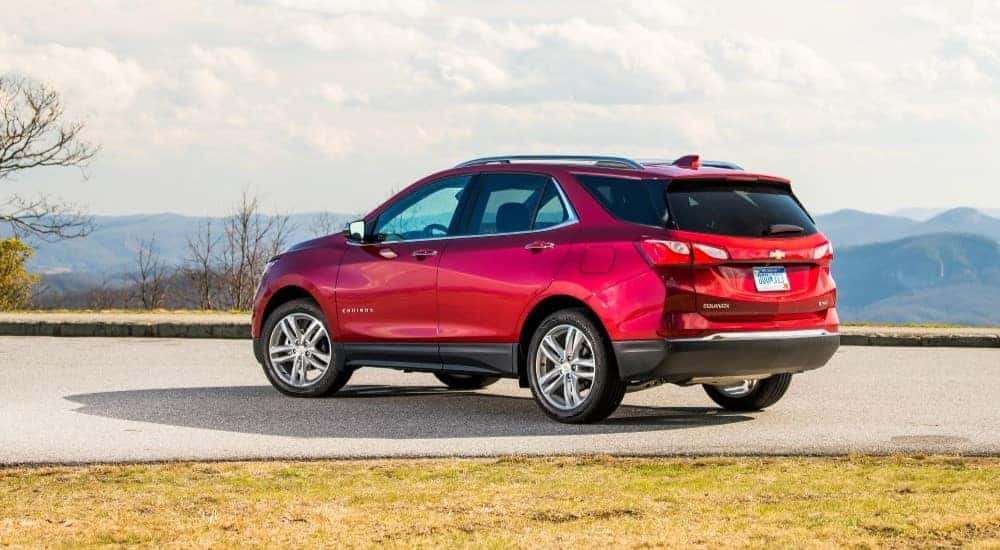 #4 – Chevy Equinox
In the arena of tried and true automotive brands, no name is quite as recognizable as Chevrolet, providing drivers all over the world with high-quality vehicles of all different kinds, including SUVs. When it comes to the brand's SUV lineup, the Chevy Equinox has always been the talk of the town, providing smooth rides for families of five since its initial release in 2005.
The third-generation Chevy Equinox, which was introduced in 2018, was built with smoothness in mind. The 1.5-liter turbocharged engine with 170 hp is evidence of this, giving the Equinox the power it needs when the time comes to use it while allowing for easy riding when families want comfort, which is quite frequent in a small town such as Chapel Hill. Its six-speed automatic transmission also helps, increasing the vehicle's overall dynamics, making for a more versatile ride.
Of all the used SUVs we've looked at here, the 2018 Chevy Equinox is by far the most efficient, with a fuel economy that is sure to save families a bundle of cash. Rated for an EPA-estimated 26 MPG in the city and 32 MPG on the highway with its 1.5-liter engine, the Chevy Equinox is perfect for parents who are constantly on the move.
Find the Used SUV of Your Dreams!
Buying a new SUV can be a difficult process, especially when you're buying with a family in mind. But with the versatile world of used SUVs, you'll be sure to find a vehicle that fits your family's style and personality without bursting your bank account. There are a whole lot of used SUVs out there, but the four listed here are particularly noteworthy options that are well-suited to Chapel Hill families.
Where should you go to find one of these amazing used SUVs? CBS Quality Cars, of course! We're dedicated to providing affordable used vehicles that you can depend on, and we're always excited to help families find the SUV that will help them make the most of what life has to offer. If you're interested in finding the used SUV of your dreams, call or stop by CBS Quality Cars today to take a look at what's on our lot!