Ford Offers a Pre-owned Vehicle for Every Type of Driver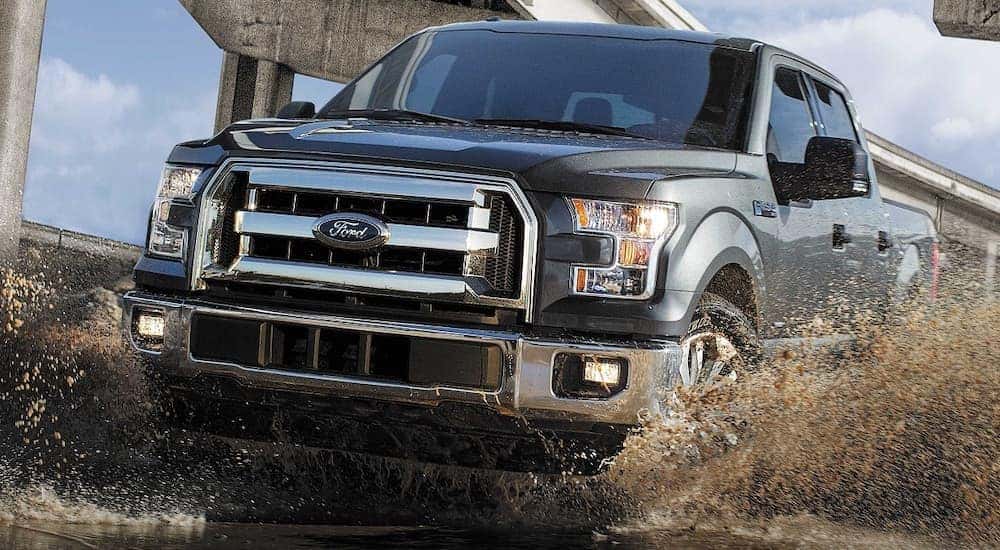 Ford is the pioneer of American automation. While there's no objective way of judging the best brand, Ford continues to win in the court of public opinion year after year. It began in the late 1800s when Henry Ford built his first vehicle. Since the Ford Motor Company's creation in 1903, it has been one of the most instantly-recognizable brand names of all time. Brands don't stick around for over a century unless they continue to provide for drivers' needs, innovating, finding new ways of serving, and delivering higher-quality driving experiences year after year.
A Ford does not need to be new to be high-quality; they've always retained its value on both the new and used market. In fact, a used Ford dealer is likely to offer a wider variety of model years, trim packages, and features because they offer a lineup expanding beyond the latest model year. You can even find models that have been taken off the market but continue providing value as pre-owned vehicles. But what are the best Ford models? Well, we like to think that they're all good, but, of course, even Ford has their favorites. Let's take a closer look at some standout models.
The Ford F-150
It's official. The F-150 is America's favorite truck. Having earned this title through decades of excellence, innovation, and strength, the F-150 remains a favorite among truckers nationwide. The F-150 exceeds its closest competitors in terms of performance specs, with recent model years offering up to 430 hp and 570 lb-ft of torque from their most powerful engine option. Those are not numbers that come in just any full-size truck; in fact, you won't find those numbers anywhere else. The F-150 is a true work truck designed for those seeking to bridge the gap between domestic and work activities.
The great thing about the F-150 is that it can be whatever you want it to be. If the domestic aspect is your focus, you can maximize interior space while still having a great amount of pickup capacity; if the work element is what you need, you can make the interior smaller and gain some volume in the pickup bed. It's not a one-size-fits-all vehicle, which also applies to the inner workings. With several engine choices, your F-150 can maximize towing capacity, maximize agility, or even maximize just standard driving. But, the F-150 goes well beyond traditional driving.
Throughout the F-150's life, and especially in recent model years, it has offered a number of special editions and special trims. Many of these strongly focus on off-roading, and in recent model years, the main off-roading special edition has been the F-150 Raptor. This truck is truly fitted for the trails, and you can tell just by looking at it: better clearance, heftier durability, and architecture that maximizes agility. Plus, it has a large grille with "Ford" etched right into it rather than the traditional logo, making it a whole different ball game, and that's before you even get in and drive it. The F-150 provides practicality, adventure, and everything in between, demonstrating precisely why it's America's favorite truck.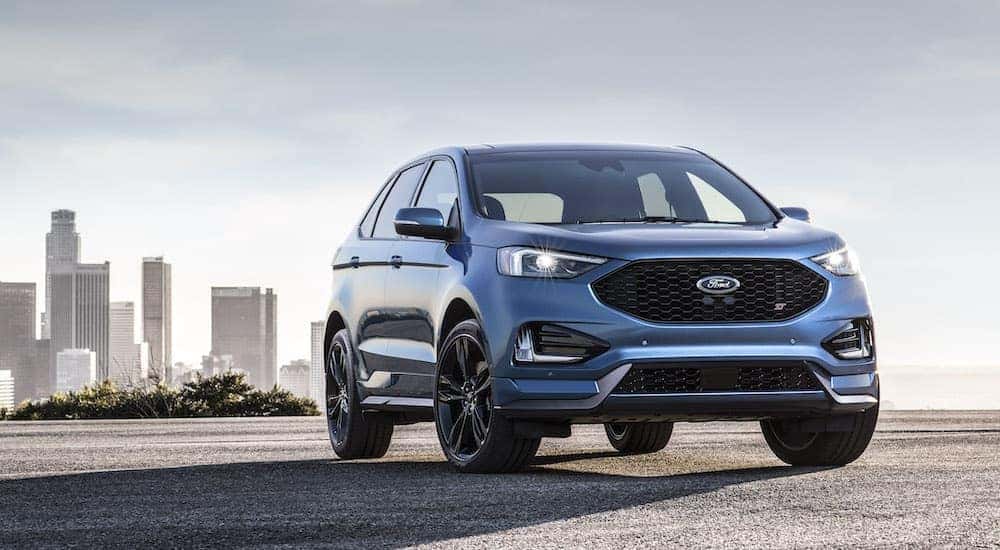 The Ford Edge
It may not be as big as the F-150, but the Ford Edge delivers the same attention to detail. The Edge pays attention to the fine details of its design, technology, capability, and, most importantly, your driving needs. This small crossover SUV is a perfect fit for young singles or newly married couples who want to start a family soon but maybe haven't quite worked their way up to minivan status yet. Its SUV architecture gives it the interior space necessary to load up cargo, passengers, and car seats, but its compact, sporty features give it the environmental factors necessary to use it as a luxury commuter. It's the kind of SUV you can take a colleague to lunch in, take your spouse out for date night, or drive the kids to soccer practice.
One of the things which makes the Edge a great family-oriented vehicle is its technology. Of course, it provides leading connectivity and infotainment technology, which can be customized depending on model year and trim package, but even more important is its safety technology. The 2019 Edge, for example, offers Ford Co-Pilot360, a suite packed with safety and driver-assistance features such as pre-collision assist with automatic emergency braking and a lane-keeping system. Nobody wants a close call, but it's far better to have a close call than an accident, and features like this make sure that a close call is where it stops.
The Edge may look small, but it proves that small and mighty go hand-in-hand. Able to reach up to 335 hp and 380 pounds-feet of torque, the Edge blows the socks off of other vehicles in its class. If you're looking for a great vehicle to bridge the gaps as you transition from young singlehood into family life, the Edge positions itself well to bridge all kinds of gaps. It provides features appropriate for all kinds of drives, outings, and passengers, but it's all the same vehicle.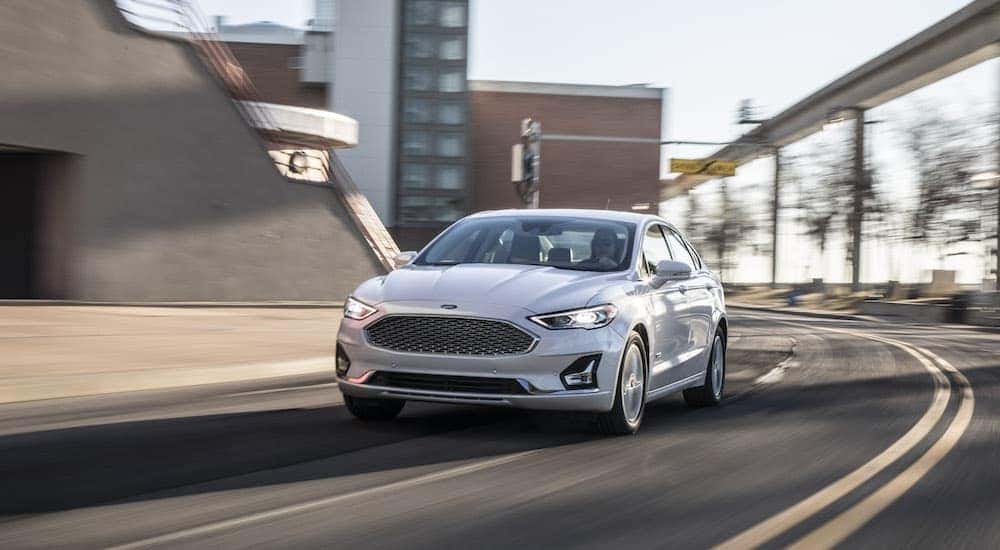 The Ford Fusion
This one may be off the market, but we still have it on our pre-owned lot waiting for you. Unfortunately, the Fusion has retired because it provides the perfect balance between Ford's proven ferocity in the Mustang and its larger SUV vehicles by providing a spacious sedan. It's the perfect in-between. Now, with a name like Fusion, you can probably guess there's more going on than a standard mid-size sedan, and you would be correct.
The Fusion offers both hybrid and plug-in hybrid models. This increases capability, efficiency, and thrills while lowering your fuel bills. Hybrids can be a little more expensive, but there are two points to consider. First, since you are purchasing a pre-owned Fusion, it will come at a lower price than if it were brand-spanking new. Secondly, any extra price you might incur in a hybrid will, if you drive it enough, pay off over time in the money you save on fuel. Gas prices are high right now, but that could be of far less concern to you if you're driving something that doesn't rely solely on gas. The Fusion is a great vehicle for those who like saving money, those who do daily commutes (especially long ones–again, that gas savings add up), and those who don't need the extra cargo space in an SUV like the Edge. It's the ideal sporty commuter vehicle.
All the Features You Need at an Affordable Price
Ford wouldn't be trucking through its second century of operations right now if it didn't pay close attention to you, the driver, and your needs. By observing your needs, how they change, and even anticipating your wants, Ford has developed an extensive lineup of vehicles that come in different shapes, sizes, builds, and types to ensure that everyone's needs are met.
The F-150 is not comparable to the Edge, nor is the Fusion comparable to either. They're not competing with each other; they're all reaching out to different drivers with different needs. We believe these three models stand out in their own unique way by catering to truckers, families, commuters, and everyone in between. Whatever your life is like, we've got a Ford in our lineup to accommodate you. We welcome you to visit us here at CBS Quality Cars and look at our extensive used Ford vehicles for yourself.