Nissan Goes Diesel: Titan Trucks With Diesel Engines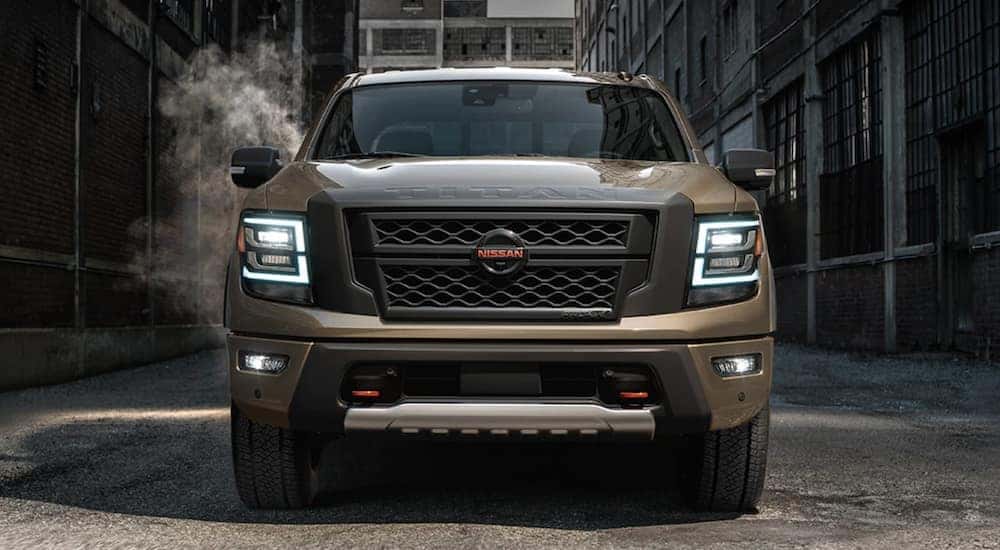 Are you on the hunt for a tough, reliable, and powerful pickup truck without the substantial price tag? First of all, shop Nissan, one of the best-value brands in the auto world. Second, shop used trucks for even more savings. Finally, diesel trucks are famously some of the longest-lasting, best value pickups on the road. Visit CBS Quality Cars for used diesel trucks in Durham, NC, and you'll take home quality with longevity, all at a low price. But which Nissan Titan years have a diesel engine?
A helpful note before you start shopping: Nissan only temporarily offered diesel engine trucks, which is part of what makes these limit-time trucks so sought-after. While their popular Titan pickup truck has consistently been a well-reviewed, great-value buy, those specifically looking for a diesel truck should do a bit of research before they start shopping. Here are some details about diesel powertrains for the Nissan Titan, followed by advice on where to get your hands on one of these in-demand edition trucks.
Which Nissan Titan Years Offer a Diesel Engine?
Nissan premiered diesel powertrains for their popular Titan pickup trucks back in 2015. Sensing the growing popularity of diesel engines outside the commercial market, Nissan offered a diesel engine for the full-size 2015 Titan XD as an optional powertrain. Nissan's first diesel was a 5.0-liter V-8 turbo diesel engine that, alongside other tow equipment, enabled the 2015 Titan XD to tow up to 12,710 pounds.
This competitive tow rating makes the 2015 Titan XD a popular get for used truck shoppers who want an affordable, heavy-duty, and large pickup with all the perks of driving a diesel. Larger and more tow-equipped than the standard Titan truck, the 2015 Titan XD is designed to do more while still maintaining competitive pricing. Now that this truck model is a few years old, it's even more affordable than ever.
Nissan went on to produce an optional diesel engine for the 2016 Titan XD, a powerhouse truck that churned out an enjoyable 310 horsepower and, more impressively, up to 555 lb-ft of torque. Hefty, ultra-capable, and souped-up with even more cargo and towing equipment than ever, the 2016 Titan XD is still a respectable truck by modern-day standards.
Other notable diesel Titans include the 2019 XD, which included commercial-grade chassis parts for optimal durability and weight. These features increased the 2019 edition's payload capacity, stabilized performance when towing heavy weight, and made this pickup more durable than ever. The 2019 Titan XD offered commercial-grade towing and payload power at passenger vehicle prices. This was also the last year the diesel engine was offered.
As with previous editions, the 2019 Nissan Titan XD may be available at your local used car dealership at lower-than-ever rates. You pay less to shop used while still taking advantage of recent capability, safety and tech features, and performance engineering.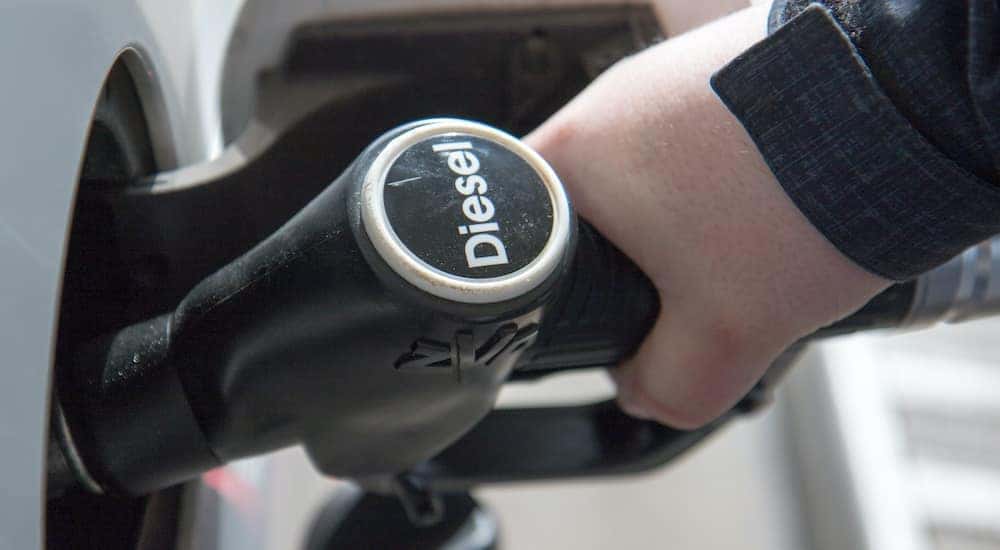 Why Diesel?
Why do so many truck enthusiasts and hard-working folks commit to driving diesel trucks? It's not just that satisfying, low growl that just screams power. It's about durability, cost efficiency, fuel economy, and overall dependability. First of all, diesel engine trucks like the Nissan Titan offer a smooth, reliable ride. While gas-powered pickups are often more dependable for quick acceleration and lightweight performance drives, diesel trucks provide more smooth shifting and substantial torque, even when carrying heavier loads in the bed or towing behind the Titan.
Diesel trucks are also famously long-lasting, with durable engineering that withstands thousands upon thousands of miles of use. This means that even a well-worn, used Titan diesel truck is still more than capable of providing reliable power for a long time. Diesel trucks are optimized for fuel economy as well, offering superior efficiency ratings to gas counterparts.
Why Not Shop New Nissan Titans?
There are many perks of shopping for a used diesel truck vs a new one. When you shop for a new pickup, you may get the latest engineering and highest possible towing/payload ratings, but you also pay a premium for the novelty. You can expect to pay thousands more when you shop a new Nissan than when you explore a quality used selection.
While some people may hesitate to shop used due to perceived high maintenance costs, shopping for new vehicles doesn't eliminate the need for maintenance. Plus, when you shop at a quality dealership like CBS Quality Cars, you get a guarantee of excellence. While there are no promises when you shop used directly from the owner – a private sale – vehicles in such a well-regarded used car inventory are thoroughly vetted, so you know you're taking home a quality vehicle every time.
However, there's another reason why you should explore used Nissans, especially if you're on the hunt for a diesel-equipped Titan pickup: they've been discontinued altogether. In other words, you can no longer find new Nissan Titans with a diesel powertrain as of 2019 because Nissan is no longer producing new models of this variety.
Many people in the automotive world were shocked by this development, especially given the availability of diesel trucks across other pickup brands. However, Nissan is choosing to focus on their gas engine models, offering each of them the same benefits you'd expect from a diesel truck. According to Billy Hayes, Division Vice President of Sales of Nissan North America, the brand is choosing to focus its efforts on a "stronger, more focused" Titan. Rather than offering hordes of different powertrains, with some other competing truck brands offering six or more, Nissan is making the wise choice to concentrate its efforts and improve a smaller selection of Titan powertrains.
Models since 2020, after the discontinuance of diesel powertrains, have been dramatically refreshed and will still offer competitive fuel economy, durability, power, and performance. For example, the 2021 edition uses a gas-powered V-8 to produce up to 400 horsepower and 413 lb-ft of torque. While this means that you can get diesel-like power from a new Nissan Titan, many drivers who still prefer the distinctive benefits of driving a diesel-powered truck should stick to shopping for used Titans in the 2015-2019 year range.
Shop CBS Quality Cars
Are you ready to find a diesel truck built with incredible Nissan quality inside and out? Shop CBS Quality Cars for an extensive lineup of used pickup trucks, including the Nissan Titan. Hard-working, reliable, and tough enough for commercial-grade work, a used Titan XD diesel can still compete with new trucks – especially when it comes to price! However, other Titan trucks still offer the same level of quality at unbeatable value. Even if a Nissan isn't right for you, we have a huge inventory of other diesel trucks that are sure to please.
Whether you're looking for a truck built to tow heavy trailers, haul weight in its bed, perform with incredible efficiency, or just offer long-term value, you know you're getting the best when you shop CBS Quality Cars. We are Durham, NC's best place to shop for used cars, trucks, vans, and SUVs. If you want like-new quality at used prices, explore our inventory of pre-owned vehicles.
Then, get in touch with our finance department to easily get credit approval, trade-in your vehicle for a great price, and get a financing deal that works for your budget. Once you've taken home your next vehicle, stop by and see our automotive service department for great prices on high-quality maintenance, repairs, parts, and more. There's so much to love about CBS Quality Cars; find out for yourself why we have so many glowing 5-star reviews from hundreds of satisfied used car shoppers.