One of These Trucks Should Be Your Next Used Model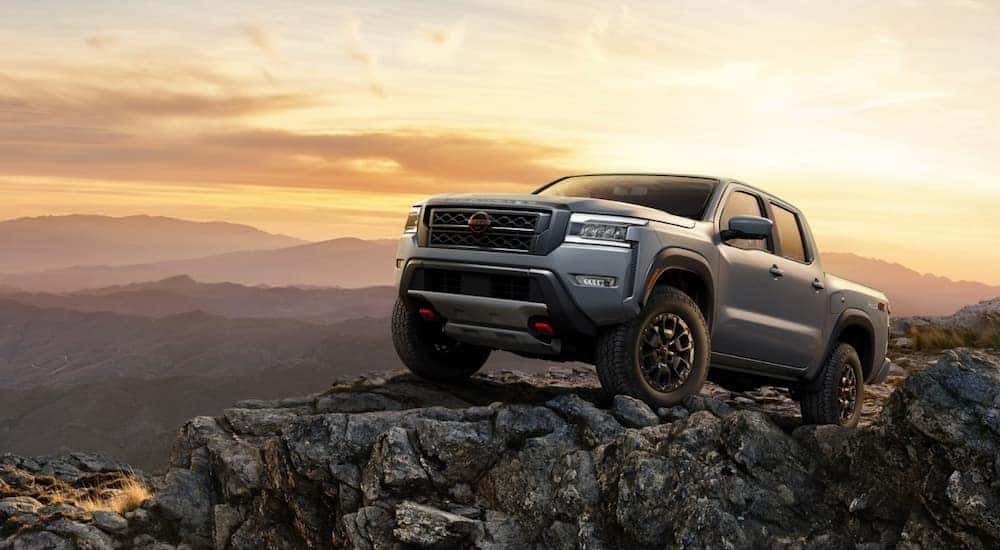 In the early days of the automotive industry, there were few choices for new drivers. There were a small number of trucks and cars, but even so, choices were still pretty limited, especially for the public––many vehicles were reserved for work only, like trucks and Jeeps, before they became popular as recreational vehicles after World War II. Decades later, a wealth of options are available at dealerships like ours, but with that comes an overwhelming amount of information. What type of truck do you want? Do you need a specific feature or function? Which brands do you trust? What model year should you get?
These and dozens of other questions can feel like a deluge, but fortunately, there is a truck out there for you. The most important question is, "What do you need/want a truck for?" Once you know the answer, it becomes much easier to narrow down your choices, and it won't feel as overwhelming. Are you looking for trucks for sale near Raleigh, NC, but not sure which truck to focus on? Below are four categories of trucks we would recommend, each with its own unique purpose, perfectly suited for the driver that likes to work hard and play hard.
Nissan Frontier – Work Truck
Like its predecessors, the Nissan Frontier is built for work, though that doesn't mean it can't moonlight as a weekend camper, tailgate party space, or hayride. Nissan's 2017 model has an optional V6 engine, along with a cargo box that can be arranged however you please to allow for more versatile hauling arrangements. This is particularly helpful for those with tools, building materials, and small equipment that needs to be hauled to and from the job site, but it can also lend itself to carrying camping equipment, grill supplies, and outdoor game setups.
This Nissan midsize truck has proven popular with many drivers, perhaps because of its roomy, comfortable cabin and solid performance. The available 4.0L V6 engine provides plenty of power to haul and tow, and if you equip the Frontier with the Work Truck Package, that adds a spray-in bedliner, rubber floor mats, and splash guards to prevent scratches, dampness, dirt, mud, and other natural detritus in working spaces from making your work truck look worn and dull. Looking for a midsize truck that has all the functions of a work truck but can also support and enhance your weekend plans? The Nissan Frontier might be right up your alley.
Ford Ranger – Versatile Midsize Truck
Perhaps you're less in need of a work truck and looking for more of a jack-of-all-trades vehicle that can keep up with your schedule and variety of activities. In that case, you might want to take a look at the 2019 Ford Ranger, a midsize pickup that can handle the off-road adventures you want to go on and the day-to-day driving that working and running errands requires. Driving something that can change tasks on a dime can come in handy, and the Ranger is equipped to provide both a fun experience and a powerful performance.
The Ford Ranger was taken off the US market in 2011 but was reintroduced in 2019, quickly becoming a fan favorite in the midsize truck market. Like a phoenix, it appeared bigger, brighter, and more modern than its past model years, and it has remained popular even with other competitors trying to get a foothold in the market. With features like a turbo-charged four-cylinder engine, 8.4 or 8.9 inches of ground clearance, depending on which drivetrain you go with, and a Terrain Management System, you'll be able to go almost anywhere and do almost anything you can dream of. Are you interested in a well-rounded, finely tuned, versatile pickup? You can't do better than the Ford Ranger.
GMC Canyon – Big Rig in a Small Package
Ever contemplated buying a heavy-duty pickup but decided against it because of its size, gas mileage, upkeep, or price? You're not alone. Even though it would be nice to have something you can use to haul a boat, a bigger camper or trailer, or multiple recreational vehicles, the sheer size and low gas mileage often deter drivers from taking one home from the dealership. But what if there was a pickup that could function as a big rig without the downsides? That's why GMC introduced the Canyon. Smaller than the Sierra, the 2017 Canyon still packs enough power to tow up to 7,000 lbs when properly equipped.
As the only pickup in its class to feature a four-cylinder diesel-powered engine option, the 2017 diesel GMC Canyon is a rare find, and it stands to reason it is highly sought after. Even if you opt for a gasoline version, you're still getting a powerhouse that can handle just about anything you can throw at it. Eager to find something that can tow with the trucks in the big leagues? Take a look at the GMC Canyon.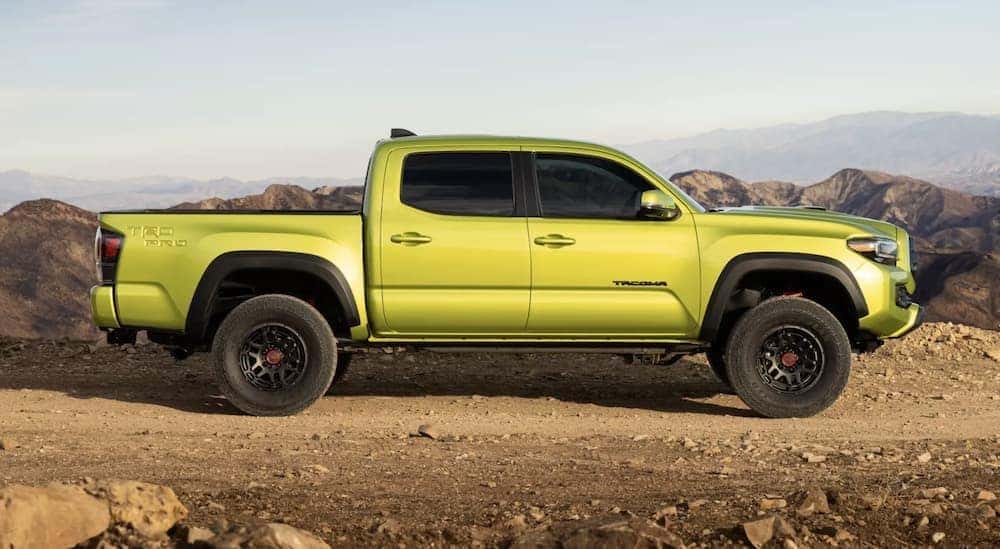 Toyota Tacoma – Off-Road Rockstar
Already have a work vehicle? Looking for something that's rough and ready for the wild outdoors? For some, a car is great for the daily commute, but they need a different vehicle to explore off-road. Models like the Wrangler or Bronco are an option but don't always have room to comfortably seat friends and family, as well as all the camping, fishing, and hiking gear required. Instead of dealing with cramped conditions and a lack of cargo space, why not consider a different vehicle, like the Toyota Tacoma?
The Tacoma's reputation as a rough-and-tumble pickup is legendary. The TRD trim of the 2017 Tacoma packs all the features needed for getting lost in the wild, including a skid plate, 120V/400W deck-mounted AC power, an anti-roll bar on the front of the truck, and specialty shocks and suspension. Toyota has long been known as a reliable brand, with its vehicles noted as inexpensive to repair, sturdy, long-lasting, and well-built. When you need something that can handle a variety of wilderness terrain while still providing ample cargo space and comfortable seating, the Toyota Tacoma fits the bill to a tee. For your next foray into the desert, on the beach, or near the forest, take the Tacoma with you and see what a difference it makes.
Find a New, Used Truck Today!
When you begin looking for a truck, you may feel as if there are far too many choices. It can be paralyzing, affecting your ability to make a good decision when you're surrounded by the sheer amount of models available. However, if you can articulate what you want or need it for, you'll be able to narrow down your choices to a reasonable amount, and you'll be able to make the best decision for yourself. Don't be afraid to ask our sales team for recommendations, do some research, and consider the tasks or activities you do the most to figure out what type of pickup will most likely be the best fit.
Whether you're looking for a work truck like the Nissan Frontier, or you're more interested in a versatile midsize pickup like the Ford Ranger, or you're curious about a smaller tower that can take on the big stuff like the GMC Canyon, or you're eagerly searching for an off-road buddy like the Toyota Tacoma, there are used pickups that are ready to take you where you need to go. What are you waiting for? Visit us at CBS Quality Cars and find your next used truck today!