Our Picks for Top 5 Used Sedans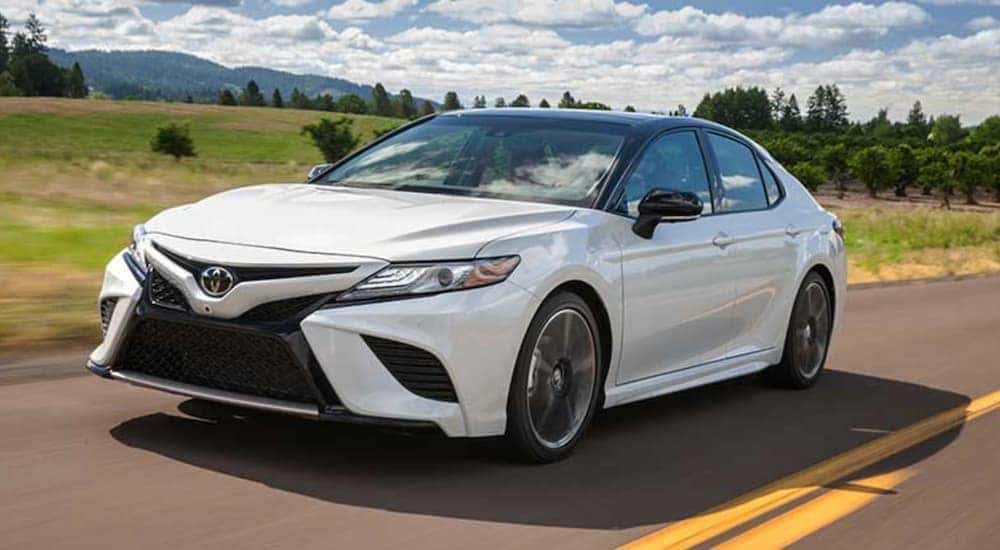 Sedans may not be for everyone, but we believe there are still a lot of great sedans that offer buyers exceptional value with plentiful features, comfortable interiors, and even performance-oriented driving quality. The latest generations of the five sedans we chose as our Top 5 to showcase all lend themselves to a sportier appeal. You won't find any boring sedans here! This list gives an overview of five sedans that will last a long time, deliver a satisfying experience behind the wheel, and have enough space for rear-seat passengers to be comfortable. For our drivers seeking used cars in Durham, here is our list of the top 5 used sedans.
#1 – Toyota Camry
The Toyota Camry has been a best-selling midsize sedan for decades for a good reason. It's safe, reliable, economical, and comfortable. Now in its eighth generation, which was introduced in 2018, the Camry offers several powertrain options, from the standard 2.5-liter four-cylinder to the optional V6 and the fuel-saving hybrid. A fully reworked design for this generation makes it the sportiest yet, with an aggressive front end and sleek sculpting to give it more personality and style. From behind the wheel, the Camry rides smoothly but handles responsively on winding roads.
Toyota gave the Camry one of the roomiest interiors in the segment, and soft-touch materials upgrade the interior atmosphere. Safety features like automatic emergency braking with pedestrian detection and forward collision warning are part of the modern Toyota suite of driver-assist technology, and features like WiFi and navigation are available. A touchscreen with the Entune infotainment system is found in every recent used model, along with Bluetooth connectivity for smartphone pairing. The Camry is a class favorite for overall comfort and value.
#2 – Nissan Maxima
Nissan has been producing the full-size Maxima since 1982, and now it has achieved its eighth generation introduced for 2016. This latest generation offers sport-oriented performance and appearance, a strong point of Nissan's brand, but it also offers plenty of interior space and luxury features to take this sedan into indulgent territory. A 3.5-liter V6 under the hood provides satisfying acceleration, and the overall performance is responsive and stimulating.
Technology abounds with standard onboard navigation in recent models. Apple CarPlay made standard in 2017, followed by Android Auto in 2018. Zero gravity seats and a cockpit-style command center give this sedan a fully immersive sporty appeal while remaining comfortable wherever the journey takes you. Nissan's ethos of Intelligent Mobility means that safety features like blind spot warning or forward collision warning with automatic braking are found on virtually all newer used models. The current generation of the Maxima verges on luxury with its well-appointed features and finishes and is worth a look for those who always wished for a sports car with four doors.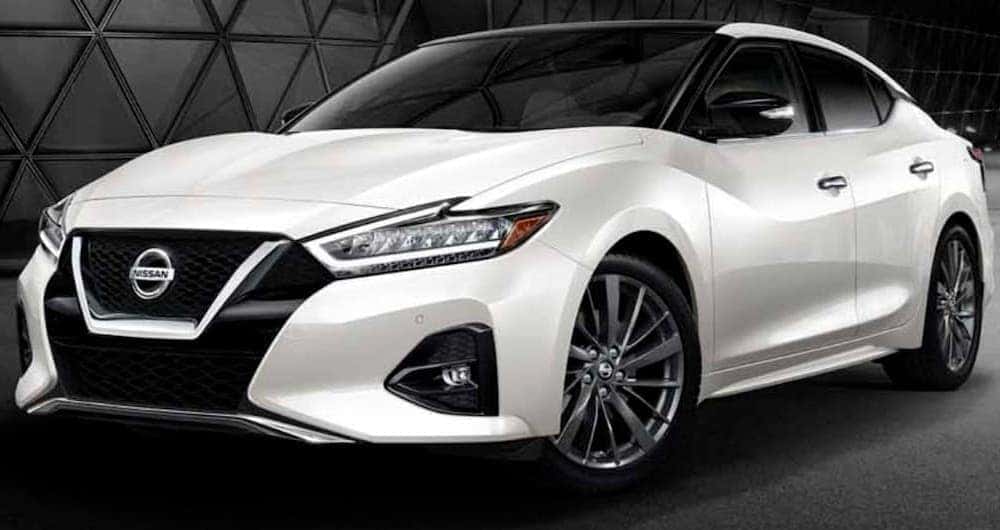 #3 – Honda Accord
Honda redesigned the midsize Accord in 2018, taking one of the most popular sedans in America into its tenth generation. Like other recent sedan designs, the Accord has taken a sporty turn, but rather than the aggressive appearance others are choosing, the Accord is streamlined and sleek. The fastback rear design and the clean lines of the front fascia lean toward a more elegant style. The Accord delivers pleasing performance, with the standard 1.5-liter turbo engine providing excellent acceleration and efficiency. However, the optional 2.0-liter engine brings even more excitement and comes with a ten-speed automatic transmission. Choosing the Sport trim level upgrades the suspension for a stiffer ride to better hug the curves in the road.
Used Accords come with plenty of technology like an eight-inch touchscreen in the center console where Apple CarPlay and Android Auto are accessed, WiFi, and wireless charging are available. Driver-assisted technology is very generous, with adaptive cruise control, automatic emergency braking, and lane-centering features found in many used models. Though this generation of Accord now rides lower, the back seats will accommodate adults when you need to travel with taller folks. With interior appearance upgraded to incorporate more soft-touch surfaces and options like leather seats, the Accord offers comfort, safety, and convenience with a sophisticated appeal.
#4 – Mazda6
Mazda is a brand known for supplying drivers with a sporty experience behind the wheel, and the latest generation of the Mazda6 will deliver. With a standard sport tuning, the Mazda6 handles responsively on the road, especially on tight curves. The standard 2.5-liter engine offers satisfying acceleration when you hit the pedal, and you can even find a used model with a 6-speed manual transmission for even more control over the Mazda's road manners. Bolstered front seats add to the allure of the sport-oriented sedan, which comes standard in cloth or can be optioned in leather.
The technology in the current-generation Mazda6 includes an 8-inch touchscreen and a luxury-car-style infotainment system with controls on the center console. Even in earlier years, the Mazda6 offered keyless entry and push-button start, features other sedans in the class did not offer until more recent years. In 2015, Mazda6 was named an IIHS Top Safety Pick+ with the help of its Smart City Brake Support, one of the many safety features available, and then in 2016, the sedan incorporated the Mazda Connect system into the lineup. Sport enthusiasts are likely to find this used sedan comfortable, well-designed, and attractive on top of its excellent driving demeanor.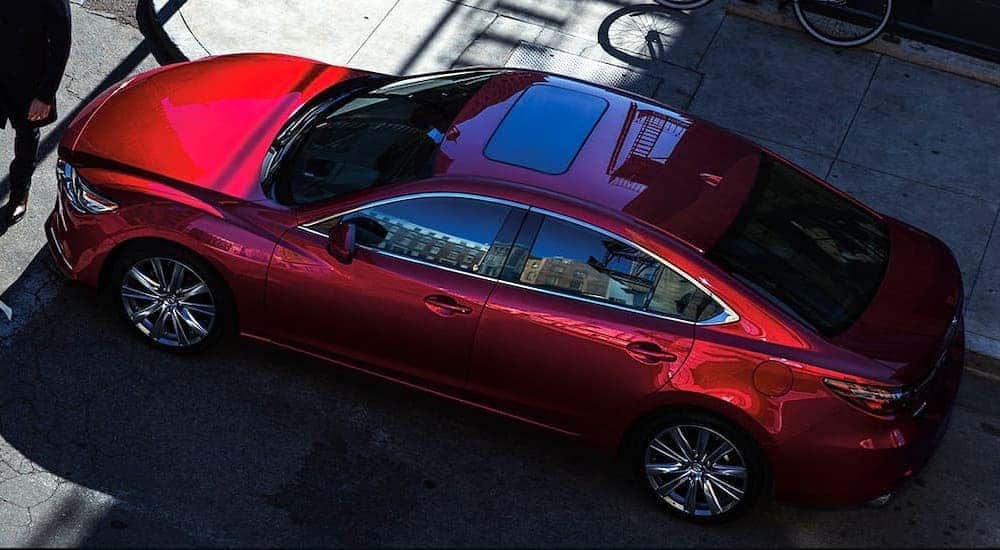 #5 – Chevy Impala
Though Chevy has discontinued the Impala as of 2020, it was popular during its ten generations as a classy, roomy, and comfortable sedan. Its last generation spanned from 2014 to 2020, and in the first year of its redesign, it offered three powertrains. The standard engine was a 2.5-liter four-cylinder, but a mild hybrid and a V6 engine were options for either better fuel efficiency or more power. Once again, styling ranges toward a sporty appearance that verges toward muscular with an aggressive front end. Shopping for a used Impala gives buyers a number of options for wheel sizes and engines that will affect the performance and ride quality. Regardless, the Impala overall offers a quiet, composed interior.
If you're looking for a sedan with a larger trunk capacity without sacrificing rear-seat space, the Impala is one of the better choices, thanks to its capacious 18.8 cubic feet of trunk space. Even dating back to 2014, the Impala included MyLink technology accessed through the standard eight-inch touchscreen in the center console, which allows for voice recognition and had available navigation. 2015 saw the addition of OnStar as standard, and Apple CarPlay and Android Auto were available in 2016, then made standard for 2018. While driver-assist technology is available for all years of the recent generation, Chevy made most of the features options.
A Used Sedan Is a Great Buy
Sedans may not be as popular as they once were, but they still make for excellent family cars and superior commuters. When you buy a sedan, you gain more features for a lower price than you pay for larger trucks and SUVs, so a sedan makes an excellent choice for buyers watching their budget or buyers looking for more luxury features. The sedans featured in this list all offer roomy back seats, provide more than adequate cargo space in the trunk, and have comfortable, well-appointed interiors. But which one is right for you?