Road Trip-Worthy Used Vehicles: What to Consider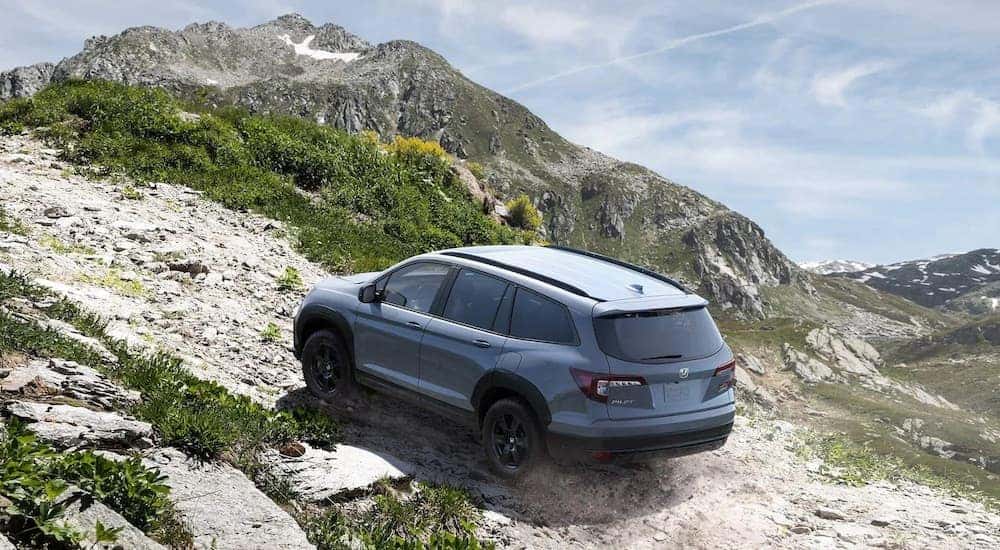 When purchasing a used car, there are several things you should consider. From safety and performance to efficiency and reliability, you need to do your research to get the most out of your purchase. Shopping for used SUVs for Sale near Raleigh, NC, is made simpler when working with a dealer you can trust, like the team here at CBS Quality Cars.
Buying a used car that is safe to drive can give you peace of mind, and knowing that your car received quality checks from our dealership to ensure it met all safety standards can help you feel less stressed and anxious while driving. Keep reading to learn your responsibilities when purchasing a used vehicle and what road-worthy used cars you can rely on when planning your next big road trip.
Responsibilities of Used Car Owners
When you buy a vehicle, you take on several responsibilities. These steps help ensure you're safe while driving and that others on the road with you are also safe. Also, following the steps of used car ownership helps keep your vehicle in good working condition longer.
When it comes to repairs, it is your job to see that your used vehicle is fixed if something goes wrong. Ignoring difficulties can cause little problems to become bigger and more expensive issues in the future. Our certified technicians can assist you with any repairs that are needed, helping you get back on the road in no time. To make things easier, we have our own on-site parts center, offering you parts you can rely on.
It's Essential to Maintain Your Vehicle
Like any vehicle, your used car will need routine maintenance. This includes replacing the oil and oil filter, inspecting and replacing the air filter, checking and replacing the brakes and tires, and more. Paying attention to your used vehicle's maintenance plan will help you avoid costly breakdowns and extend the vehicle's lifespan.
You benefit from a full-service dealership when you purchase your used vehicle from CBS Quality Cars. Not only do we have an excellent inventory to choose from, but we also have a team of knowledgeable technicians in our service department who take your vehicle maintenance seriously.
You'll get quick and efficient oil changes, including some of the best prices and seasonal discounts. We also ensure we use the best oil for your vehicle, depending on your model, mileage, and any other variables that come into play. When you're in our shop for an oil change, our professional team will discuss any maintenance issues with you that may be on the horizon. We want you to be informed––not surprised––when it comes to vehicle maintenance.
Additional items our service team can help with include brake inspections and replacements. The life of your brake pads depends on how often you drive, where you drive, and how you drive. Stop-and-go traffic in Raleigh and the hilly terrain of North Carolina can be hard on your brakes. If you're curious about your brakes, talk with our team the next time you're in the shop.
When it comes to maintenance, you can't forget your tires. We provide tire inspections and replacements and balance tires to assist with the comfort of your ride and fuel efficiency. Once you've worked with our maintenance team, you'll feel confident that your vehicle can get you where you're going safely and efficiently.
Clean Cars Run Better
Taking good care of your used car is more than just focusing on the engine and tires. It's about cleanliness as well. Ensuring your vehicle is clean inside and out can help with your vehicle's longevity. Not only that, but clean cars tend to get better fuel efficiency.
Additionally, think about how you feel after cleaning your workspace or home. Living and working in a clean space lifts your spirit, makes you feel accomplished, and encourages you to take better care of the area around you. The same feelings happen when you clean the inside of your car.
Besides feeling better, you also receive other benefits when you clean your car. Think about all the things you touch during the day, and then consider what you are transferring to the surfaces of your vehicle. The five areas in your car that need the most attention when it comes to cleaning are the steering wheel, the gear shifter, the door handles, the buttons for windows and locks, and the center console. Help you and your passenger's health by keeping a clean car.
Now that you know the responsibilities of owning a used vehicle to ensure it's road trip-worthy, you might wonder what used SUVs for sale near Raleigh, NC, get a passing grade.
Four Road Trip-Worthy Used Vehicles to Consider
Things to look for in a road trip-worthy vehicle are fuel efficiency, cargo space, comfort, and safety. When purchasing your next used vehicle, the following options check those boxes. As you might expect, all four are SUVs, but we included two compact and two three-row options, so there is something for everyone.
2015-2021 Hyundai Tucson
The Tucson is an all-around good choice regarding reliability and fuel efficiency, with the refreshed 2019 model rated at up to 30 MPG on the highway. Plus, it has comfortable seating and modern connectivity, which most drivers look for today. A sizable second row allows passengers to stretch out. There is plenty of storage room for luggage and anything you might purchase along the way. The Tucson also has several features that help keep you safe on long trips, such as lane keeping and blindspot monitoring. Most importantly, the Tucson is fun to drive, with responsive steering and a quiet interior.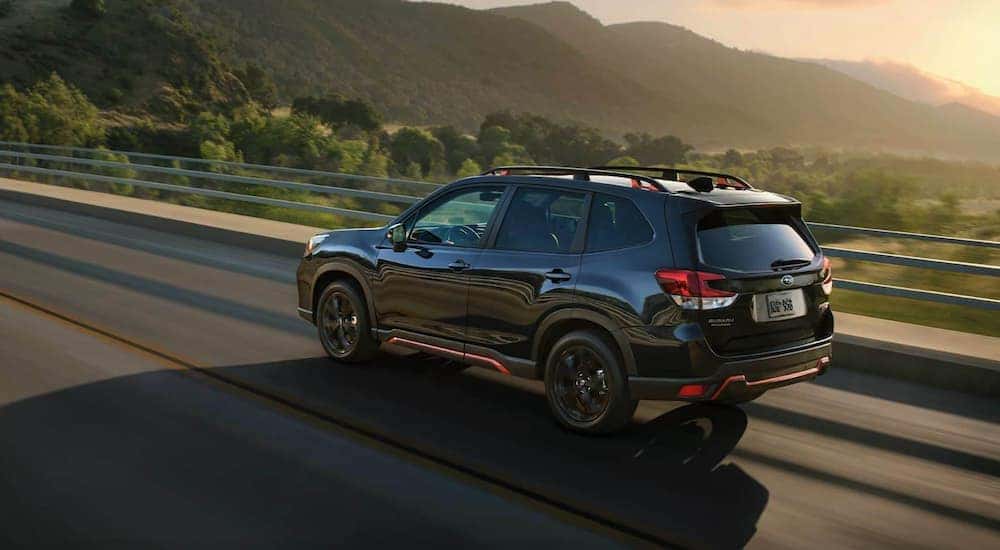 2019-2022 Subaru Forester
The Forester has long been thought of as a vehicle built for adventure. With comfortable seating and easy-to-reach controls, this SUV is an excellent mix of style and comfort. The interior height of the car is great for your tall road-trip friends, and the optional dual-zone climate control helps keep passengers and drivers comfortable during the ride. Additionally, the wide windows allow for outstanding visibility, and the 2019 model's fuel economy rating of 33 MPG on the highway is great for long rides and minimal gas station breaks.
2016-2022 Honda Pilot
The Honda Pilot is an excellent three-row option when heading out on a road trip. With comfort and amenities that lean toward family trips, this larger vehicle will make everyone smile. Available second-row captain's chairs give each passenger their own space, which is essential for long trips.
The Pilot also offers entertainment options that support wireless headphones and include plenty of USB ports. Some models also have a household plug and HDMI port for laptops or gaming systems. The ride is smooth, allowing you to feel the curves in the road like they're second nature. With plenty of legroom and cargo space, the interior doesn't feel cramped. You will also feel safe driving the Pilot, with Honda Lane Watch and a Collision Mitigation Braking System available.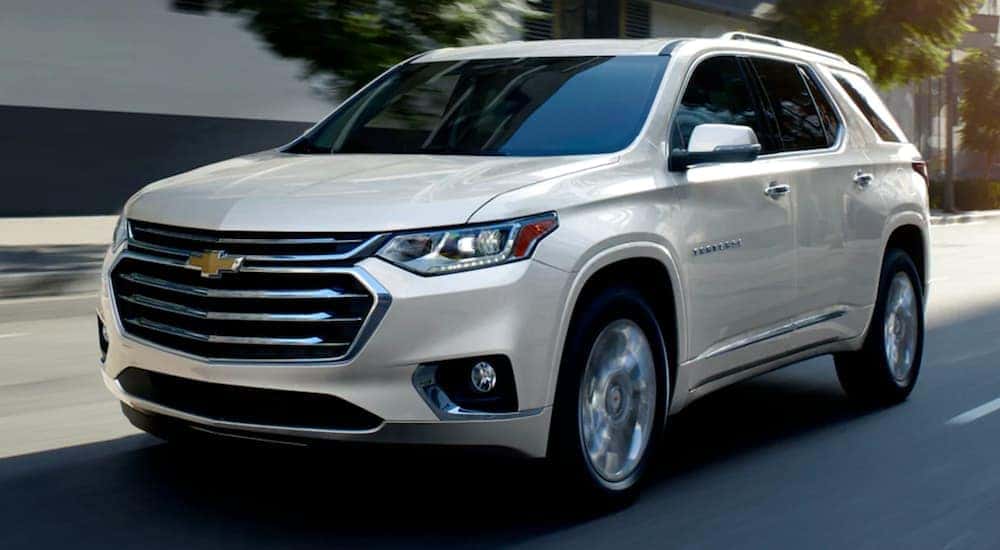 2018-2022 Chevy Traverse
The Chevy Traverse has plenty of benefits when choosing it as your next road trip-worthy vehicle. The Traverse can fit up to eight people if needed, but the second and third rows fold flat when the road trip you're on is just you and a friend. The Traverse also offers a variety of storage options that help you and your passengers keep organized during the trip.
As for safety while driving? The Traverse has excellent options, including Lane Keep Assist, Automatic High-Beams, Forward Collision Alert, and more. Plus, some versions have a built-in navigation system to help you reach your destination without any stress.
Enjoy Your Next Road Trip With a Reliable Used Vehicle
It's easy to put your worries aside and enjoy the ride when you know you have a road trip-worthy vehicle and the support of a reliable dealership and service department on your side. When you're ready to take the plunge and see what used SUVs for sale near Raleigh, NC, are best for you, visit CBS Quality Cars and talk to one of our knowledgeable staff members. As the weather turns warmer, more people will hit the road. Make sure you're in a vehicle that helps keep you safe and comfortable as you make memories with your family and friends.