Shopping Used Is No Small Task – Better Use a Truck!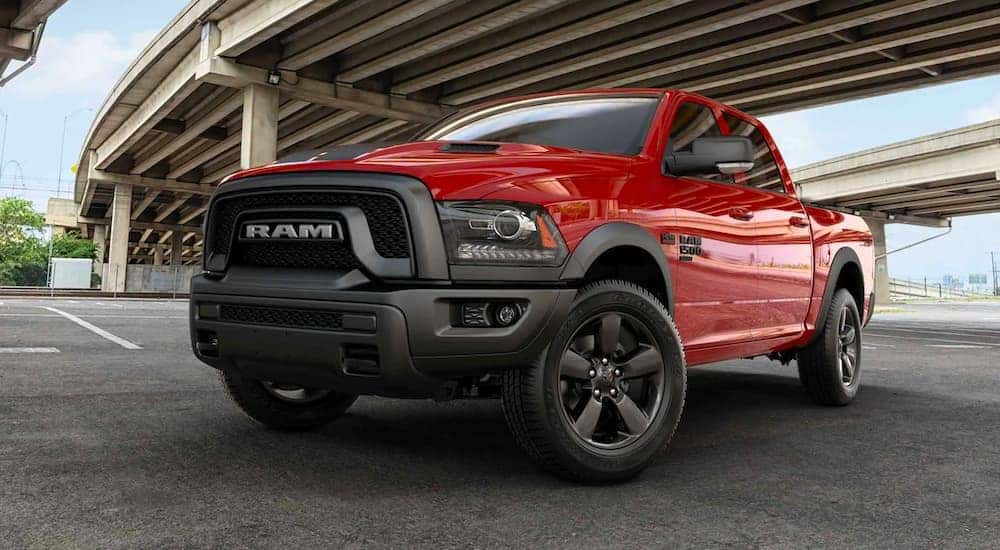 A used truck is a smart way to spend on a vehicle. Its worst depreciation is in the past, so if you plan to sell or trade-in your truck in a few years, you won't be so far in the red as you would be with a new one. Trucks are also especially good at holding their value thanks to high-durability construction and capabilities that never become outdated (unlike cutting-edge technologies, which add excessive value to premium vehicles when they're new), so depreciation isn't as great a concern as with other vehicle types. Their capabilities are another reason why trucks make a smart purchase. You can spend just as much on a big SUV that can't handle a heavy trailer, on a sporty coupe that can't fit your friends in the back, or on a comfortable sedan that won't be any use for moving furniture around. Drivers looking for a used truck in Durham, NC, fit a lot of molds, and for the reasons noted above, most would find that a truck provides the greatest all-around value.
Once you've determined that a truck is at least worth a look for your lifestyle, the next thing to think about is budget (if you haven't already set one). After all, the price you can afford doesn't change just because you're looking at a different type of vehicle. Drivers with smaller budgets will find a plethora of trucks to try out, from 15-year-old high trim models to 8-year-old base models, with medium and high mileage and in all sorts of conditions depending on what you can live with. Some drivers who find money to be no object will find great deals on young, low mileage trucks in great trim packages too. Today, though, we're going to take a look at what you can expect to find with a mid-range budget of $25,000 – $40,000.
The possibilities are nearly endless. You can easily find low-trim trucks in this range, which are still young and lightly used enough to qualify for certified pre-owned programs. You can also find older trucks in the 5-to-10-year-old range in mid and high-level trim, depending on mileage, offering an entirely different take on luxury and trucking comfort. Let's look at some examples to demonstrate and show you what we mean!
Ram 1500 Classic Big Horn and Warlock
The Ram 1500 Classic was "released" as a 2019 model but is essentially the same truck as the 2018 Ram 1500. Ram made the decision to continue building and selling that previous generation model as the 1500 Classic when they fully redesigned the 1500 for 2019, offering a limited trim range and a lower price point to entice lower-budget customers. Budget-conscious buyers, or drivers who love the Ram 1500 style but don't feel inclined to spend on technological frills, should find the 1500 Classic to be a great investment that compares favorably to similarly-priced models from other brands.
The 2019 Big Horn and 2020 Warlock models represent the top trim 1500 Classics for their respective model years. An 8" touch screen with Apple CarPlay and Android Auto is standard, and interior materials represent a modest upgrade from entry-level trims. A coil-spring suspension gives the 1500 Classic superior ride quality, and available V8 engines ensure it can compete with any other full-size for towing needs. Lockable RamBox storage bins provide an option for secure storage, and these top-trim models bring a little extra attitude in terms of exterior styling thanks to chrome accents on the Big Horn and an aggressive black grille on the Warlock. Look for LED bed lighting, remote start, and parking assist features to set these two apart from lower trims – plus of course, the cavernous crew cab that's a standard feature on each.
Ram 1500 Big Horn
Big Horn trim has about the same meaning for the 2020 Ram 1500 as it does on the Ram 1500 Classic – the standard Ram 1500 just offers about a half-dozen other trim levels above it, making Big Horn a low-level trim in this case. With a fresher style and a wider list of standard amenities, the Ram 1500 is a genuine luxury vehicle next to its predecessor, so don't be fooled. The 2020 Ram 1500 Big Horn is a definite upgrade over the 2020 1500 Classic Warlock. For a classy, comfortable truck that'll be useful in any scenario for many years to come, a Ram 1500 Big Horn is no compromise.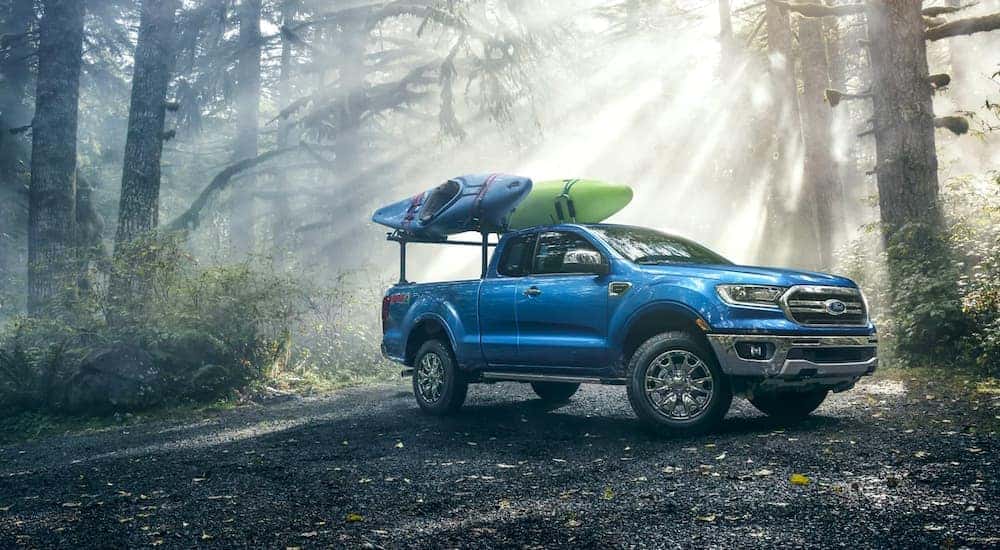 Ford Ranger Lariat
For those who don't need the full power of a Ram or F-150 or simply don't have the room for such a big truck, the midsize segment is an excellent place to look. After all, today's midsize pickups are about the same size and have similar capabilities to full-size trucks from the early '00s! The 2020 Ford Ranger Lariat is the top trim for Ford's competitive mid-sizer, which challenges the segment leaders in terms of price, payload, towing capacity, power, and even efficiency, making it a great all-purpose vehicle for any driver!
The Lariat trim is highlighted by a chrome grille, LED lighting all around the outside, and powered leather seats on the inside. All the options available to lower trims become standard, and new options like rain-sensing wipers and a Bang and Olufsen sound system become available, so look for these on used examples. While it isn't as large or capable as an F-150 Lariat, it's significantly cheaper and much easier to park – both important aspects to consider when space and cash are limited.
Ford F-150 King Ranch
While it still falls short of the luxury-class Platinum and Limited trims, King Ranch-level Ford F-150s sport an impressive array of features and amenities for this price range, even when approaching 10 years old! For example, by 2014, the King Ranch offered remote start, ventilated front seats, and power-folding auto-dimming side mirrors; features still generally limited to high trim vehicles for much higher prices today. Distinctive exterior styling and generous leather upholstery, plus wood interior trim highlights, deliver classic cowboy style with genuine class. Sure, it's a lot older than the Ranger Lariat, but it's aged nicely and is definitely worth a look if brown leather seating fits your style.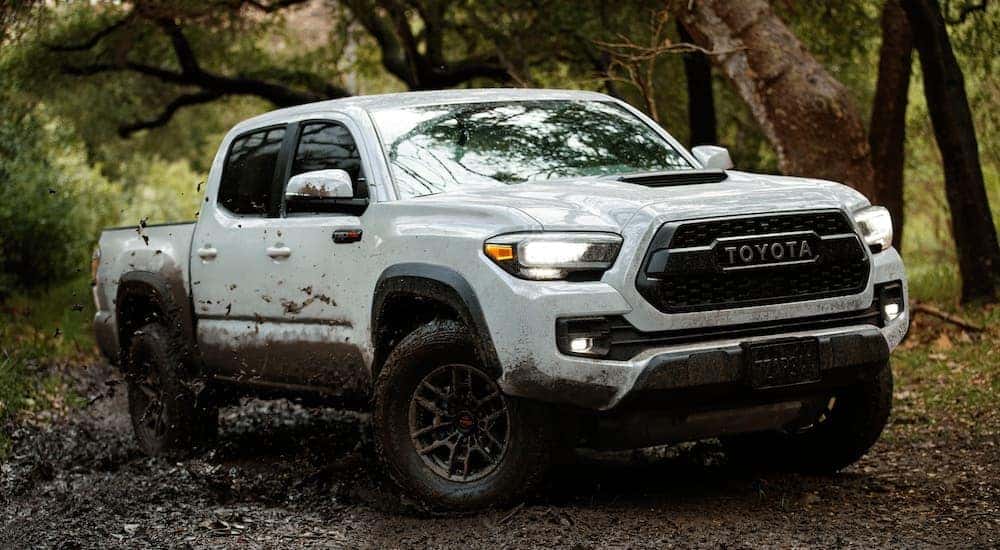 Toyota Tacoma 4WD TRD Off-Road
The Toyota Tacoma holds its value better than almost any other vehicle on the road, with only the Jeep Wrangler Unlimited falling in the same range of 30-35% depreciation over the first 5 years of ownership. While it hasn't seen a major redesign for a long time, it has a lot of momentum in the market as one of the only midsize pickups available in the mid-2010s. Its reliability and genuine off-road prowess are not to be ignored. Half of the Tacoma's 6 trim levels for 2019, as an example, are TRD (Toyota Racing Development)-badged models, signifying their bend towards off-roading performance.
The 2019 Tacoma in TRD Off-Road trim features a TRD-tuned suspension, Bilstein shocks, and a 32-degree approach angle thanks to over 9" of ground clearance. An electronically locking rear differential, special graphics features, and the off-roading cruise control feature called Crawl Control are all part of the package as well. If you already know what all that means, then you're probably an off-roading fan who doesn't need an explanation. But if you're not already blazing trails, suffice it to say that this truck can hang with the best of them. Also, if you happen to live in a place where getting stuck in the mud is a genuine concern, a truck like this can be a life-saver.
How to Narrow Down Your Options
That's just a glimpse into the world of used trucks in a $25,000-$40,000 price range. Does it seem like we haven't really narrowed things down to a few standout choices? That's because it's impossible! Our advice is to make a list of every feature you feel you have to have for the money and every aspect of the design that matters to you. There's almost no reason to compromise because the highly competitive pickup truck segments offer something for everyone, no matter your budget.
In this mid-level price range, for example, we can find newer utility-minded trucks in top trim like the Ranger Lariat and Ram 1500 Classic Warlock. Even classier trucks can be had if we're willing to look at something a little older, like a 2014 F-150 King Ranch, or at something that's closer to the entry-level like the 2019 Ram 1500 Big Horn. Drivers with an itch or a need to run off-road can find specially-tuned trucks like the Tacoma TRD Off-Road in this range, too, and can count on low depreciation holding the value of their ride for years to come.
Of course, the best way to sort out the best from the rest is to hit the road for a test drive. Try out a bunch of trucks before you compare what you loved and hated about each, then use that to advise your CBS Quality Cars sales partner about what you're really looking for once you've figured it out for yourself! It's a wide world and an exciting experience, so take your time and let our team help you find the perfect used truck.