Taking a Closer Look at Some Popular Silverado Models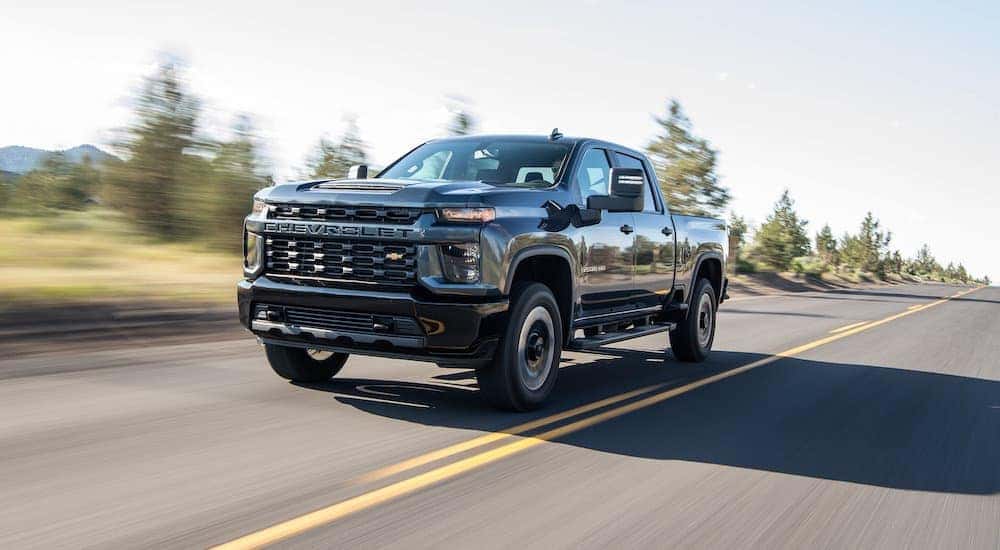 The used vehicle market is full of surprises, both good and bad. Sure, you might uncover a hidden gem when looking at the used truck sales near you, but in many cases, it won't take long to figure out why the previous owner decided to part with it. Buying used always involves some level of risk, but in the end, it often comes down to the specific model or class, as some vehicles simply hold up better than others.
Drivers seeking an exceptional value on the used market need look no further than the humble pickup truck. With a reputation as some of the most reliable and well-built vehicles on the road, pickups don't suffer from many of the same later-in-life issues that face so many other types of vehicles. There are a number of reasons for the pickup's storied longevity – a sturdier frame with better construction, simpler engines, and high towing capacity – but the argument is best summed up by looking at pickups' resale values as compared to cars and SUVs.
While the average car and SUV lose around 60 and 50 percent of their value, respectively, over the first five years of ownership, pickups boast an average five-year depreciation of just 44 percent. Breaking it down even further and some frontrunners start to emerge. For example, the Chevy Silverado 1500 retains 45.2 percent of its value over five years; a strong showing, especially when compared to the resale value of its two closest competitors, the Ford F-150 (47.3%) and Ram 1500 (49.3%). With such figures to back up its already sterling reputation, it's little wonder that used Chevy Silverados have proven so popular with drivers and critics alike.
Of course, even the best pickups are going to vary from year to year with new trims, equipment packages, or complete redesigns resulting in some very distinctive models. The Silverado is no exception, and while the full-size pickup has always retained the power, performance, and hauling capability that make it trusted at worksites the world over, there have been some intriguing variations over the years. Let's take a closer look at some of the best Silverados you might find on today's used pickup market and see how Chevy has continued to evolve its marquee pickup.
2017 Chevy Silverado 1500
While opinions vary, most experts agree that the five-year mark represents the sweet spot when it comes to used vehicles. This might not be true in every case, but for a vast majority of vehicles, five years marks the point at which the vehicle has gone through its most rapid period of depreciation. It also means the vehicle has been given half a decade to exhibit any flaws or major mechanical issues that could end in a big repair bill down the road, insulating drivers from unexpected costs. For this reason and many more, the 2017 Silverado is our pick for one of the best used models you can find.
The 2017 Silverado might not be from the most recent generation of the beloved pickup, but that doesn't mean it's a throwback either. Chevy gave the pickup a facelift in 2016 as part of a mid-cycle refresh that saw the addition of a new grille, headlights, and front fascia, lending it a thoroughly modern silhouette. The advanced tech features are all there, too, including HD Radio, an 8-inch MyLink infotainment system, wireless charging pad, and LED taillights and LED headlights with Chevy's IntelliBeam high beam assist system on the LTZ and High Country trims.
Given the redesign the previous year, the 2017 model didn't really need to reinvent the wheel, but that didn't stop the automaker from refreshing the style and adding a few key safety features into the mix. Silverados equipped with the powerful 6.6-liter Duramax Turbo-Diesel V8 got a new front hood with air intake vents, and new interior and exterior color options were added, but it's the safety features that really make the 2017 model a standout.
With the addition of low-speed automatic front braking, the Silverado is able to detect an imminent collision and apply the brakes as necessary. Using a forward-facing camera, the system monitors the road ahead, scanning for any vehicles directly in your path and sending out a warning if it detects an oncoming crash. If the warning isn't heeded, the system can bring the vehicle to a complete stop or assist the driver in applying the brakes. This feature only works when the vehicle is moving between 5 and 37 mph and can be easily overridden or turned off if called for.
Features like low-speed automatic front braking might not be too rare these days, but back in 2017, these types of smart safety systems were far less common, making the Silverado a standout for its class and era. The 2017 Silverado also saw the addition of GM's Rear Seat Reminder and Teen Driver Mode on Silverado Double and Crew Cabs, but we'll wait to discuss those in a minute.
The 2019 Model Might Be More Your Speed
2019 marked a new chapter for the Silverado, with Chevy unveiling the fourth generation of its award-winning pickup. The Silverado was redesigned from the ground up with updated modern styling for a decidedly modern look, including sleek new body lines and a multilevel headlight array. Chevy also took the opportunity to lengthen the bed by 7 inches, which has a knock-on effect of adding three inches of legroom on models equipped with the Crew Cab.
When it comes to the exterior, the real highlight is GM's all-new air curtains, an intriguing technology that goes a long way in improving the Silverado's aerodynamic profile. These air curtains reduce drag by directing air around the pickup's wheels instead of the wheelhouses themselves. While some automakers are prone to adding a bunch of nonfunctional air intake into the grill as a means of injecting a high-performance look, Chevy's air curtains are the real deal. An inlet between the front fenders and bumper lets oncoming airflow in and channels it around the front wheels, improving fuel economy while also cutting down on noise and vibrations. The 2019 Silverado, along with the 2019 Chevy Camaro and GMC Sierra, served as the poster boy for this debut technology, which has been included on every model since.
Appearance aside, it's the truck's expanded list of engine options that really turned heads when it came to the 2019 Silverado. The pickup retains its 4.3-liter V6 from the previous year, which is a good all-around performer with 285 horsepower and 305 lb-ft of torque, but it's a gas-sipping four-cylinder and powerful yet efficient pair of V8s that caught our attention. On 2019 Silverados, mid-level trims come standard with a new 2.7liter turbo four-cylinder engine which, despite being the smallest engine in the half-ton pickup class, manages to punch well above its weight with 310 horsepower. This thrifty option also features cylinder deactivation, further improving fuel economy and allowing the Silverado to be the rare full-size truck that can boast an estimated 20 MPG in the city and 23 MPG on the highway. The I-4 provides plenty of power even in a truck of this size, showcasing you just how far engine technology has come.
On the upper end, two powerful V8 give drivers all the performance they could ask for and more. The 5.3 and 6.2-liter EcoTec3 engines are as powerful as ever, but now thanks to the addition of Chevy's new Dynamic Fuel Management (DFM) technology, they're also more efficient than ever too. All of the engines on the 2019 Silverado offer Active Fuel Management (AMA), which can selectively deactivate cylinders to improve fuel efficiency when you're not in need of maximum power, but DFM takes it one step further. The system is designed with 17 different cylinder firing modes, which allow the V8s to deactivate as many as six cylinders at a time. This goes a long way in improving the pickup's mileage without taking a noticeable toll on performance; a trade-off that no pickup driver is eager to make. The 5.3-liter engine puts out 355 horsepower, and the 6.2-liter engine outputs 420 horsepower, which goes a long way in helping the Silverado achieve some truly impressive towing figures at 11,600 and 12,200 pounds.
A Modern Used Model for All the Perks: 2020
While it's almost too recent to qualify as a used model, we would be remiss if we didn't mention the 2020 Silverado. This time around, Chevy increased the engine options once again, adding a new, super-efficient 3.0-liter Duramax turbodiesel to the mix, which, in addition to some other new features, make this year's model perfect for some heavy-duty towing. The automaker also expanded the availability of the 6.2-liter V8, making it available on a wider range of trims for the new model year.
Customization was already a strength for Chevy's marquee pickup, but these two additions take it to a whole other level. When combined with the short bed configuration, the new turbodiesel posts a nearly untouchable 23 MPG in the city and 33 MPG on the highway, immediately vaulting the Silverado to the head of its class when it comes to fuel economy. There's no trade-off on power either, with the turbodiesel producing a considerable 460 lb-ft of torque.
The new diesel option has another trick up its sleeve that's perfect for towing and hauling applications: diesel exhaust braking. While the Silverado still has regular brake pads and rotors for everyday use, the pickup can also use its own exhaust to slow down the vehicle using this innovative new technology. When activated, the braking exhaust system forces exhaust gasses back into the engine itself, effectively choking the engine and reducing power for a brake-like effect. This diesel exhaust system is especially useful when towing heavy loads up and down steep grades and is offered as part of the Silverado's Tow/Haul Mode. Designed with heavy loads in mind, Tow/Haul mode adjusts the pickup's transmission shift patterns, cutting down the number of shift cycles to make for a safer, more controlled towing experience. The diesel exhaust braking system reduces the wear and tear on the traditional brake pads and rotors to such a degree that GM estimates they'll last up to three times longer than normal.
Rounding out the Silverado's towing credentials, the 2020 model comes with Chevy's Advanced Trailering Package. This comprehensive system includes everything you need to tow with confidence, from a hitch guidance system with a hitch-view camera, hitch area lighting, an integrated trailer brake controller, and the industry's first electric parking brake hookup assist. The system's network of cameras is of particular note here, with 15 different views that will give drivers the confidence to hitch and tow in nearly any conditions.
Dubbed HD Surround Vision by GM, these 15 cameras can stitch together an overhead view of the area surrounding the vehicle, which makes parking the pickup, especially when towing, easier than ever. The most novel part of the system might be the Transparent Trailer view, which allows drivers to view the area behind the trailer as if the trailer itself weren't even there. In addition to its considerable towing prowess, the 2020 Silverado also saw the introduction of Chevy's Adaptive Cruise Control feature, which uses a front-facing camera to scan the road and ensure the vehicle maintains a safe distance from any other vehicles.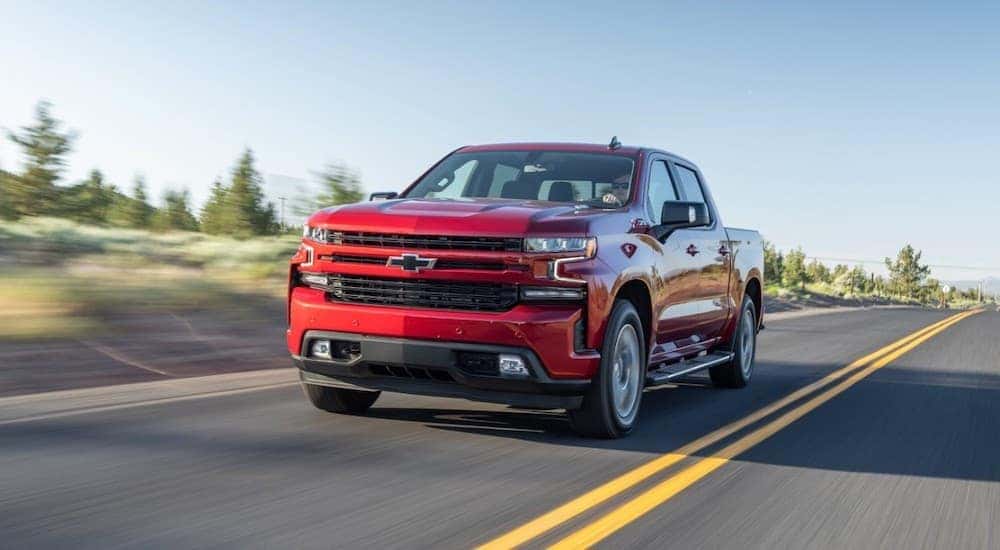 Consider Coming to Us When You Want a Used Truck
Start the search for your next used Chevy Silverado 1500 at CBS Quality Cars. Unlike many dealerships, used vehicles aren't just an afterthought at CBS Quality Cars. That's because we specialize exclusively in used vehicles, bringing the same level of care and attention you'd find at a new car dealership to the historically underserved used vehicle market. From our finance staff and top-of-the-line service center staffed by certified technicians to our in-house parts department, we seek to elevate the used vehicle shopping experience.
It all starts with our extensive inventory, which includes vehicles of every make, shape, and size. From powerful workhorse pickups like the Silverado 1500 to flashy sports cars, sensible sedans, and family-friendly crossover SUVs, there's something for everyone at CBS Quality Cars. With historically high prices and supply chain issues abound, there's never been a better time to explore the used market. With five locations throughout greater Durham, you're never too far from one of our locations, so stop by today and see what surprises we have to offer.