The Best Used Cars for Teen Drivers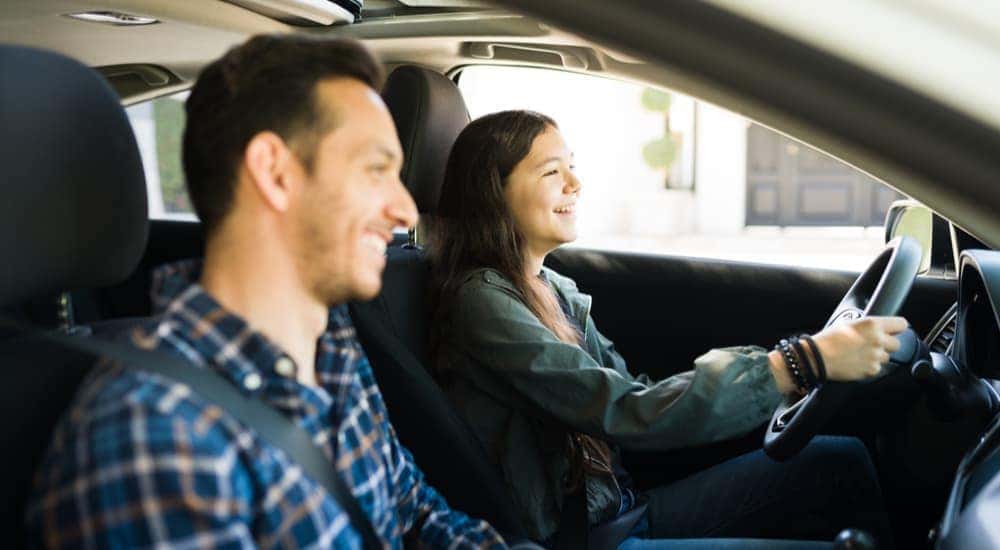 The day has finally come to introduce your teen to the beauty of the open road and the responsibilities that come with it. Rather than tossing your teen the keys to your vehicle for the hundredth time, you have something else in mind and are looking for the best used cars in the area. On your search, you'll find that the most reliable used cars you can buy are ones that will keep your teen safe behind the wheel for many miles ahead.
It's hard to name the most reliable used car in the industry because it depends on what you're looking for in a vehicle. The experts over at Car and Driver name models like the Ford Mustang and Buick Regal as two of the most reliable vehicles in the industry, but you may not love the idea of putting your teen in the driver's seat of a speed demon, nor would your teen driver be thrilled behind the wheel of Buick. So, what are your options? Here are a few things to consider, as well as our top picks for teen drivers.
Things to Consider
Safety and Driver-Assist Features
Safety is a top priority for anyone, but especially for parents of a teen driver. Fortunately, automakers like Ford, Chevrolet, and Honda make safety a priority and equip their vehicles with a suite of active and passive safety features designed to minimize the potential for collision and reduce the severity of impact. For example, Chevrolet's exclusive Teen Driver Technology allows parents to set certain safety features and driving parameters when their teen gets behind the wheel. It also provides parents with a driving report that can help them coach their teen on driving habits that need improvement.
Depending on the make and year model, you'll also find plenty of other safety and driver-assist features across brands. Some of the most common must-haves are anti-lock brakes and traction control that maximize the vehicle's stopping power and traction on various terrain. Newer models typically offer more advanced features like forward collision warning systems and blind-spot monitoring that extend your young driver's visibility and awareness behind the wheel.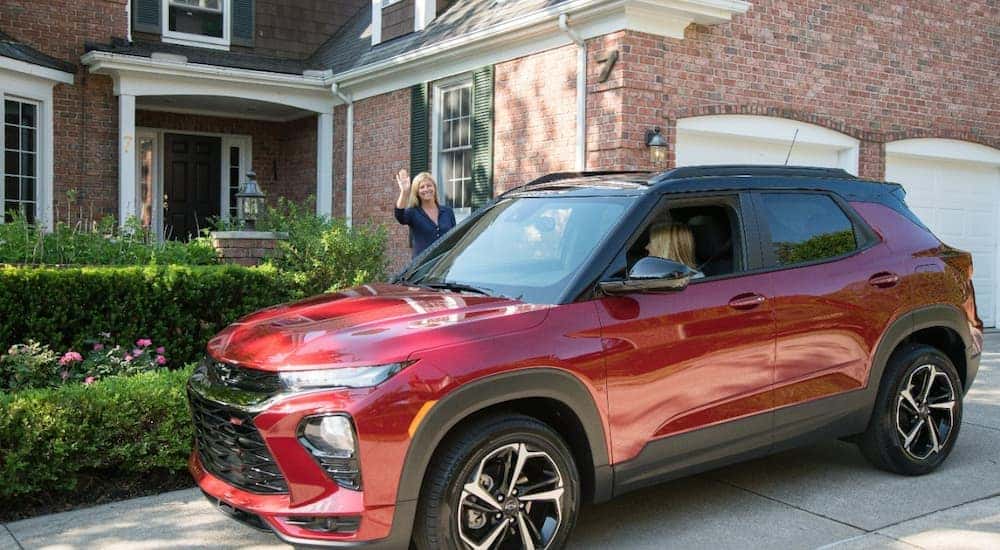 Driving Position
Driving position and visibility are two important things to consider when shopping for a used car for your teen driver. While your teen may dream of getting behind the wheel of a speed demon like the Chevy Corvette, a sports car or sedan may not be the best option for a new driver because of how it positions the driver closer to the ground. Crossovers, SUVs, and trucks move the driver's seating position higher because of their taller platforms, giving your young driver better visibility and making them more easily seen.
Our Top Picks
Toyota RAV4
Toyota is renowned for building reliable vehicles that hold their value incredibly well. The RAV4 is no exception and is a great option for teen drivers because of its higher driving position and extensive suite of safety features. We recommend looking for a 2017 or newer RAV4, as these models offer everything from LED headlights and automatic high beams to tools like lane-keeping assist and adaptive cruise control. These features earned the RAV4 exceptional ratings from the Insurance Institute for Highway Safety (IIHS) and the National Highway Traffic Safety Administration. The 2017 RAV4 earned a Top Safety Pick+ rating from the IIHS and a five-star rating from the NHTSA.
Honda CR-V
You'll find a Honda in every dealership's used inventory around the country, which speaks volumes to Honda's ability to build lasting vehicles that can log hundreds of thousands of miles. The CR-V, officially known as Honda's "Comfortable Runabout Vehicle," is among these and is ideal for young drivers looking for a versatile crossover. Both passenger and cargo-friendly, the CR-V is also well-equipped with an array of technology like the Honda Sensing suite of safety and driver-assist tools. These features are responsible for the CR-V's impressive safety ratings, earning a Top Safety Pick from IIHS in 2019 and a five-star rating from the NHTSA in 2021.
Subaru Crosstrek
Nothing quite says "adventure" like the Subaru Crosstrek, a four-door wagon that knows no limits. This adventurous spirit comes from Subaru's adoption of the BOXER engine design and its symmetrical all-wheel drive, which comes standard on every model. The BOXER engine evenly distributes the weight of the engine to make the Crosstrek more stable, while the symmetrical all-wheel drive system is perfectly balanced and delivers power to the wheel or wheels exactly when needed. This makes the Crosstrek incredibly capable whether your teen is driving in heavy rains or is doing some light off-roading with friends.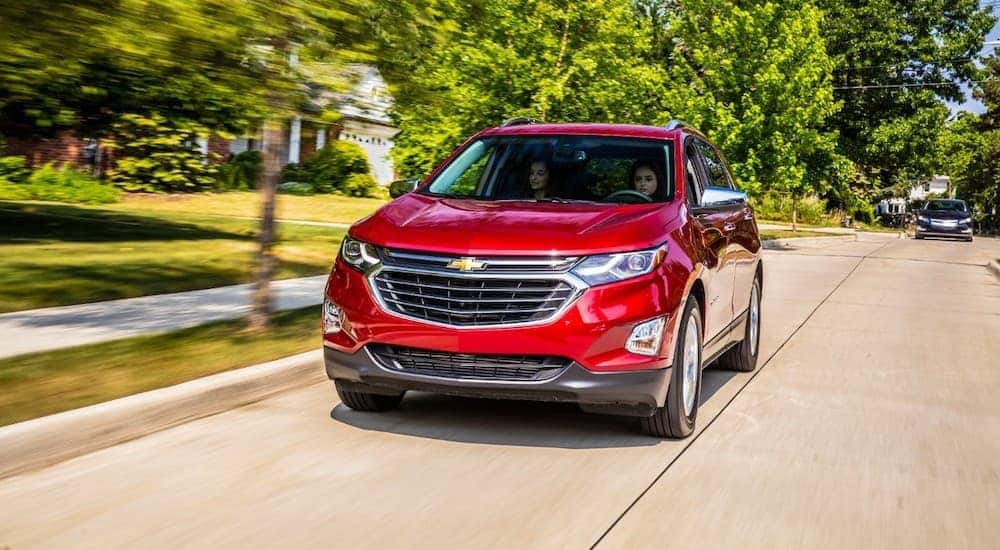 Chevy Equinox
The Equinox is one of Chevy's most popular SUVs, and it's easy to see why with its spacious cabin, capable powertrain, and impressive efficiency. Chevy's exclusive Teen Driver Technology makes the Equinox especially attractive for parents with young drivers, as do features like blind-spot monitoring and rear cross-traffic alert that equip the SUV with an extra set of eyes to enhance your teen driver's visibility and actively minimize the potential for collision. These tools are responsible for the Equinox's impressive safety ratings, like the five-star rating the 2020 model earned from the NHTSA.
Kia Soul
If you're looking for a used car with plenty of personality, you'll find it in the Kia Soul. Inspired by the wild boar and its significance in Korean culture, the Soul is bold, versatile, practical, and innovative. Surprisingly spacious, you'll find the Soul offers one of the most impressive suites of technology in the industry that ranges from connectivity features to safety and driver-assist tools. Along with these features and the Soul's stable platform, it's no surprise that models like the 2018 Soul earned a Top Safety Pick+ rating from the IIHS.
Toyota Prius
Having a teen driver means spending more money on fuel than before, making the Toyota Prius an excellent option. The hybrid is renowned for its efficiency since it combines a gas engine with an electric motor to deliver plenty of horsepower and near-instant torque for smooth acceleration and handling. Its smaller size makes it easy to maneuver around town, while advanced safety features like adaptive cruise control and lane-keeping assist actively minimize the potential for collision. You'll find these features and plenty of others on models like the 2019 Prius, which earned a Top Safety Pick rating from the IIHS.
And the Winner Is….
What's the most reliable used car for your teen driver? It's the model that your teen feels the most comfortable in and the one that gives you the confidence to toss them the keys. Models like the Kia Soul, Toyota Prius, Honda CR-V, and Chevy Equinox have plenty to offer, with a host of advanced safety and driver-assist tools designed to keep your teen informed and focused behind the wheel. So, how do you know which model to choose?
There's no right or wrong answer to what's the most reliable vehicle for your young driver. It comes down to your priorities and your teen's preferences. The best way to narrow your options and truly help your teen get comfortable in the driver's seat is to put them behind the wheel. Take plenty of test drives and let your teen get a feel for their options and the responsibility that comes with sitting in the driver's seat.