The Nissan Altima: Proof That The Perfect Used Car Exists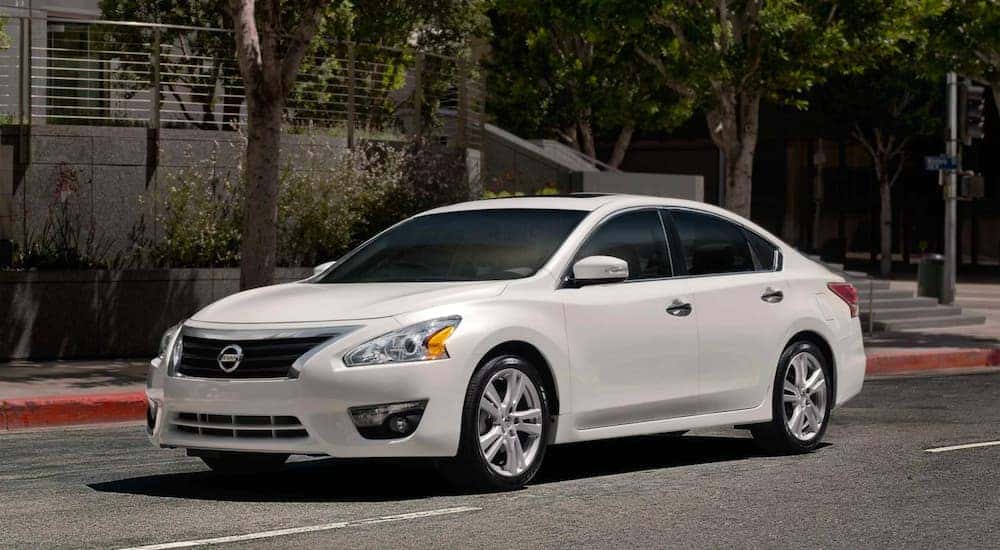 If you are in the market for an affordable, fuel-efficient pre-owned vehicle that doesn't compromise style and performance, you're in luck. We've found you a car that ticks all the boxes, so you can finally stop going down that rabbit hole of scrolling through used car apps and local marketplace pages looking for a fit. We think you'll love a used Nissan Altima. Why? The Altima is a perennial favorite, popular among families, millennials, and business travelers alike because it offers the whole package: comfort, fuel efficiency, luxury, and prestige. It's practical, without the stodginess of other practical sedans.
How does the Altima earn such a universal thumb's up? Since its launch in 1993, the Nissan Altima has come to the rescue of buyers looking for a complete sedan that was not too big and not too small. Its practical midsize dimensions provide plenty of interior space and cargo capacity while not overwhelming buyers with bulk. Currently, in its sixth generation, Nissan has never sold fewer than 200,000 Altimas in any model year. The Altima's popularity has remained steady because, well, people love it.
What features and characteristics contribute to making the Altima such a fan favorite? We love its roominess, wide range of trims and options, broad selection of powertrain choices, and overall the Altima's good looks and curb appeal. With all of these features, the Altima still remains affordable too. It stands out in its category because it dares to be a little different. Let's take a closer look at the last few generations of the Nissan Altima and see what all the fuss is about!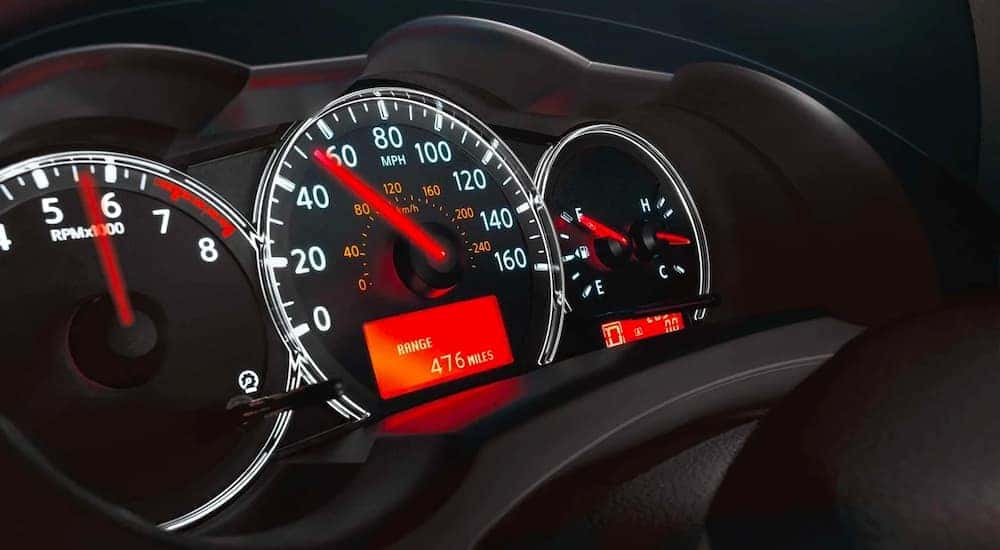 History of the Nissan Altima
Nissan launched the Altima to fit between the smaller Sentra and the full-size Maxima. As a midsize sedan, the Nissan Altima bridged the gap between budget and luxury, giving buyers the best of both. Built in North America, Nissan focused the Altima primarily on the North American market, which meant that its features and options were designed to appeal to the American sedan buyer.
At its inception, the Altima offered four trims: the very basic XE, the GXE, the performance-oriented SE, and the high-end GLE. This range indeed provided something for every buyer, whether their decision was price-based or more along the lines of finding a sporty sedan. The base XE was as simple as it gets: manual transmission, hand-crank windows, and optional air conditioning. On the other end of the trim levels, the GLE contained a head-up display – ahead of its time – digital climate control, keyless entry, a sunroof, and an upgraded audio system with an elaborate speaker arrangement that included pillar-mounted surround-sound speakers.
The first generation Altimas were launched in 1992 and stuck around until 1997. Nissan manufactured a four-door sedan body style, and its 180.5-inch overall length (including a 103.1-inch wheelbase, which is the space between the front and rear tires) and 67.1-inch width provided comfortable space for four adults. However, adding a fifth rear seat passenger was difficult due to the narrow cabin design.
Nissan added signature touches to the Altima at its launch, including using rosewood on the dash and chrome interior accents, but eventually adjusted to more mainstream choices, like plastic door handles. What remained constant was Nissan's commitment to offering a wide range of Altima trims in order to attract as many buyers as possible for as many reasons as possible. Nissan designed the Altima for a broad appeal that proved to be an important characteristic because it competed with the very popular Toyota Camry and Honda Accord.
Fourth Generation Altima (2007 – 2012)
The Fourth Generation Nissan Altima was launched at the 2006 New York Auto Show, with a one-inch wheelbase shorter than its third-generation predecessor, yet offering the same interior space dimensions. There were two engine options: a straight 2.5L four-cylinder that produces 175 horsepower and 180 lb-ft of torque, a relatively mild performance capability, and a larger 3.5L V6 engine that put out 270 horsepower and 258 lb-ft of torque (though this engine wasn't added until 2009). The Altima came with a standard six-speed manual transmission and an available continuously variable automatic.
2007 saw the addition of more modern features that are still found today in the newest models, including Bluetooth connectivity and a rear parking camera. Nissan designed the interior for convenience, offering eight cupholders and larger controls and buttons on the dash. The Altima also had several storage compartments, including a larger glove box. An available Smart Key allowed touchless entry via a sensor in the door handles.
In addition to the technological advances, Nissan introduced more body styles and trims to the Altima lineup. A hybrid Altima joined the lineup in 2007 and continued to be available on a limited basis until 2011. In 2008, the Altima Coupe was launched and included extensive structural refinements – like a shorter wheelbase and lower height – that distinguished it from the sedan as a standalone model that was sportier and more performance-oriented.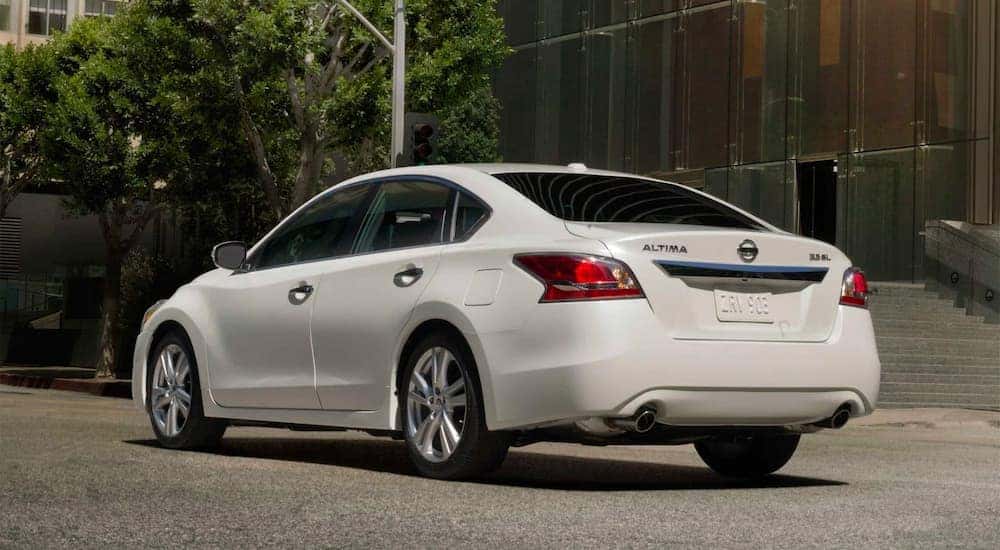 Fifth Generation Altima (2013 – 2017)
The fifth-generation series of Altimas launched in 2012 as 2013 models. This Altima was larger than the previous generation but lighter by approximately 120 pounds due to the heavy use of aluminum in the vehicle's body. It included styling touches borrowed from Nissan's Z line of performance cars and luxury and finish components that echoed Nissan's upscale Infiniti M30. Inside, Nissan doled out the technology, with an infotainment system that included connectivity, navigation, a rearview camera, XM Satellite radio compatibility, and a refreshed instrument cluster.
Nissan dropped the manual transmission for this generation due to lack of interest but kept the base four-cylinder engine option to allow entry-level buyers a lower cost Altima option. Nissan expanded the available trims to include: the base 2.5, the 2.5 S, the 2.5 SV, the 2.5 SL, and the 3.5 SL. While Nissan began this generation still offering the Coupe body style, it was ultimately discontinued in 2014.
In 2016, Nissan relaunched the Altima SR to compete with the Camry SE and the Accord Sport. A more performance-oriented Altima trim, the SR stepped up sporty exterior styling by including a rear spoiler and 18-inch wheels. On the inside, the Altima SR came with a leather-wrapped steering wheel, blue seat piping accents, and specially branded floor mats. Still, it's not just aesthetic touches that differentiate the Altima SR: it also came with performance-tuned shocks and springs for a sportier ride, along with paddle-shifters for a manual transmission feel.
The fifth-generation Altima also received an engine refresh, including an upgrade to the popular 2.5L four-cylinder engine, increasing fuel efficiency, and putting the Altima in the number one spot in its class. Nissan also included more sound isolation within the windshield and dash construction, making the car's interior quieter and more protected from annoying road noise.
Why should you choose a used Nissan Altima? If you're looking for a stable, reliable midsize sedan – or even a coupe – the Altima's broad lineup of trims and its extended model year history is going to give you a massive pool of potential choices. You can decide based on price, performance, or luxury and zero in on exactly which features you want and need.
Throughout its life cycle, the Altima has remained consistent with its position in the category: it's a uniquely styled sedan with class-leading interior finishes, fuel economy, value, and even performance if that's what you're seeking. Find your next Nissan Altima at CBS Quality Cars in Durham, NC. The Altima is not only a practical choice: it's a fun one. Stand out from the crowd and choose a sedan that dares to be a little different.