The Ten Best Used Sedans Available Today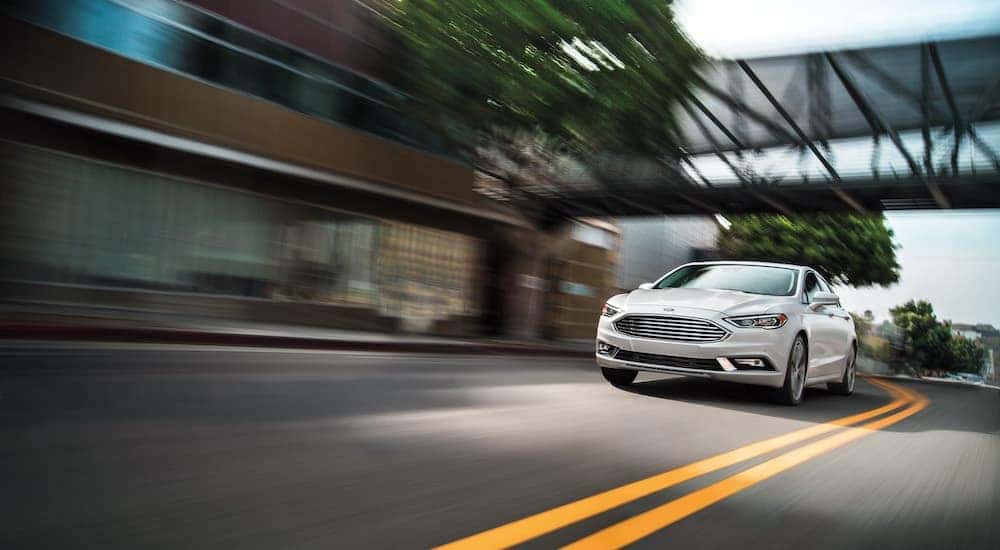 Buyers have a lot of options when they're shopping for used cars in Durham, NC. For starters, there are tons of car dealers in the greater Durham area alone. These include new vehicle dealerships, full-service used car facilities, and even buy here, pay here lots. With all of these available choices, where's the best place to start? We believe finding a dealership that focuses on used inventory, like CBS Quality Cars, is the best way to move forward. New car dealerships often have sales quotas and might steer buyers toward an unwanted new model. Full-service used car dealerships offer on-site sales and service focused only on used cars, trucks, and SUVs.
Most used car buyers have decided to go the pre-owned route to avoid the instant – and rapid – depreciation once a new car leaves the dealer's lot. It is estimated that a new vehicle will lose up to 20% of its value in the first year of ownership. That's a big hit to the wallet in exchange for a few newer features and the shiny new model year bragging rights.
With that in mind, what is the best type of car to buy used? Personally, we think you can't go wrong with buying a new sedan. Within this popular category, many great buys can be found, but more importantly, there are hidden gems that offer great performance, style, and value. If you're interested in finding the perfect used sedan, check out our list of the Top 10 Used Sedans:
#10 Toyota Avalon
The Avalon is Toyota's largest and most expensive sedan and carries the brand at the full-size sedan level. It debuted way back in 1994 and is currently in its sixth generation. The best deals are likely found in its fourth generation series. The fourth gen Avalons debuted in 2012 and continued through the 2018 model year. The Avalon is on the luxury end of the sedan spectrum, offering a wide range of upscale interior features. The high-end Avalon Limited offers leather seats, power heated front seats, an upgraded 11-speaker audio system, smartphone connectivity, and SiriusXM Satellite radio. The Avalon is all about that little bit of extra luxury.
#9 Nissan Maxima
The Maxima is a sedan fan favorite because it is synonymous with luxury and performance. A full-size sedan option, the Maxima had its start back in 1982 and continues to be popular with buyers today. The Maxima is currently in its eighth generation, and lucky buyers that find a 2016 or 2017 model with low miles will benefit from the many upgrades and technological enhancements Nissan built into this most recent generation. Marketed as a sports sedan, the 2016 Maxima arrived 82 pounds lighter than the previous generation and delivered 300 horsepower and 261 lb-ft of torque, a surprisingly nimble and high-performance spec. This is an excellent choice for performance-oriented sedan buyers.
#8 Honda Accord
The Accord has been synonymous with reliability for over 40 years. Since its debut in 1976, the Accord has kept its mid-size sedan competitors at bay with industry-leading reliability, as well as an amazing resale value. What does this mean for used Accord buyers? You'll likely pay a little more for a high quality used Accord because they retain their value more than other sedans in their class, but what you get in return are all the benefits of Honda's engineering prowess.
Now in its tenth generation, the Accord's ninth-generation range is the used buyers' sweet spot. Model years 2013-2017 will offer outstanding safety, convenience, and luxury features, along with terrific fuel economy and a low cost of ownership. This is a safe, practical mid-size sedan option perfect for college students or families.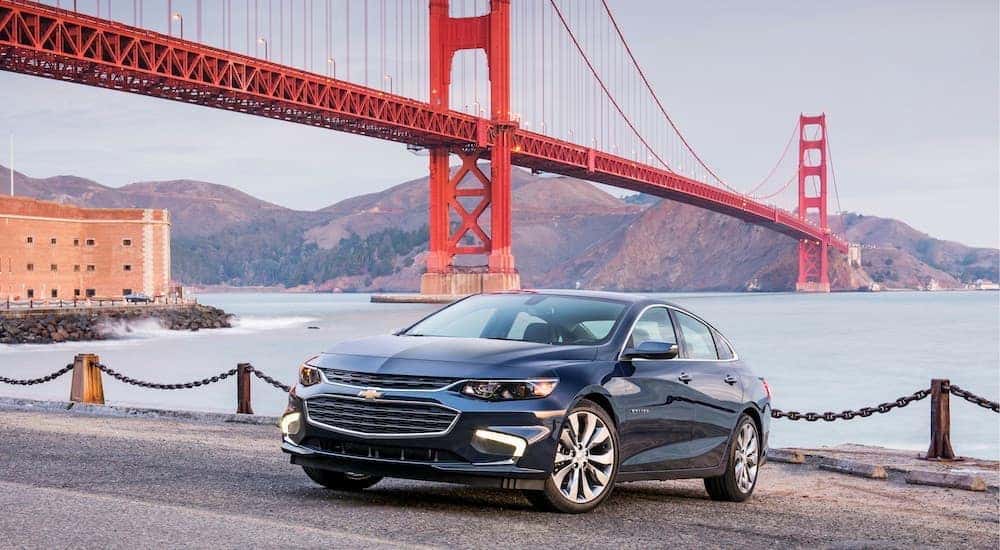 #7 Ford Fusion
A newer entry into the competitive sedan segment, the mid-size Ford Fusion is an American sedan option that offers multiple powertrain choices, including gasoline, hybrid, and hybrid plug-in trims. This variety is the headline here, along with the newness of the Fusion name. Ford enjoyed praise from automotive journalists for the Fusion's unique styling, which differentiated it from other longtime sedan competitors. Currently in its second generation, the Fusion comes available with several driver-assist systems for added safety. Those systems, along with the Fusion's sporty styling, put it firmly in the mix for buyers that want a safe family sedan with a little fun on the side.
#6 Hyundai Sonata
Hyundai has emerged as one of the most exciting, revered automakers of our time, largely due to its focus on high-end styling – both inside and out – and an exciting lineup of fun, sporty cars, and SUVs. The Sonata is one of Hyundai's originals. Debuted in North America back in 1989, the Sonata was originally positioned as a luxury sedan, but over time settled into the mid-size sedan segment. It is currently enjoying robust sales in its eighth generation, but it's the seventh generation (2014-2018) that contains the best used car deals. Sonata buyers can dial in their preferred level of luxury or find a trim that delivers excellent value. Bottom line, choose a Sonata if you can't quite decide on options and features. You'll have a wide range of choices within the Sonata model lineup.
#5 Chevrolet Malibu
Pick up a used Chevy Malibu, and you'll join hundreds of thousands of satisfied owners around the country. The Malibu is a true favorite, offering impressive performance for a very reasonable price. This nameplate dates back to the mid-60s but resembles nothing of its former size or style. The current Malibu – in its ninth generation – maintains the heritage of the vintage Malibu line but delivers it in a thoroughly modern package. Keep an eye on the 2015 and 2016 used Malibu inventory. You'll get a couple of turbocharged engine options, as well as driver-assist safety systems, and you'll join a family of over 10 million Malibu buyers.
#4 Honda Civic
No top 10 sedan list is complete without the Honda Civic. This small sedan, the younger sibling to the Accord, is the perfect option for budget buyers looking for a smaller vehicle. The Civic is known for its high quality and impressive safety ratings. Used Civics are in high demand, so you'll want to act fast if you find one you like. As with many of the sedans on this list, the Civic is offered in multiple trims, giving buyers a whole host of features to choose from. Whether it's budget and value or leather-appointed luxury, this favorite small sedan is a practical and attractive option.
#3 Mazda 3
Mazda makes surprisingly beautiful sedans. The company is known for its extravagant exterior styling, and the pretty compact Mazda 3 is no exception. Starting with its sleek, modern lines, the Mazda 3 stands out among its competitors. Introduced in the early 2000s, the Mazda 3 is currently in its fourth generation. The vehicle received a facelift in 2016, making that model year ideal for used car buyers focused on style. Upgrades included a refreshed interior, specifically a newer, more driver-friendly dashboard layout, and tweaks to the sedan's exterior styling on both the front and rear. The Mazda 3 contains plenty of driver-assist systems in the newer model years as well, making it a great choice for style mavens that still want to feel secure behind the wheel.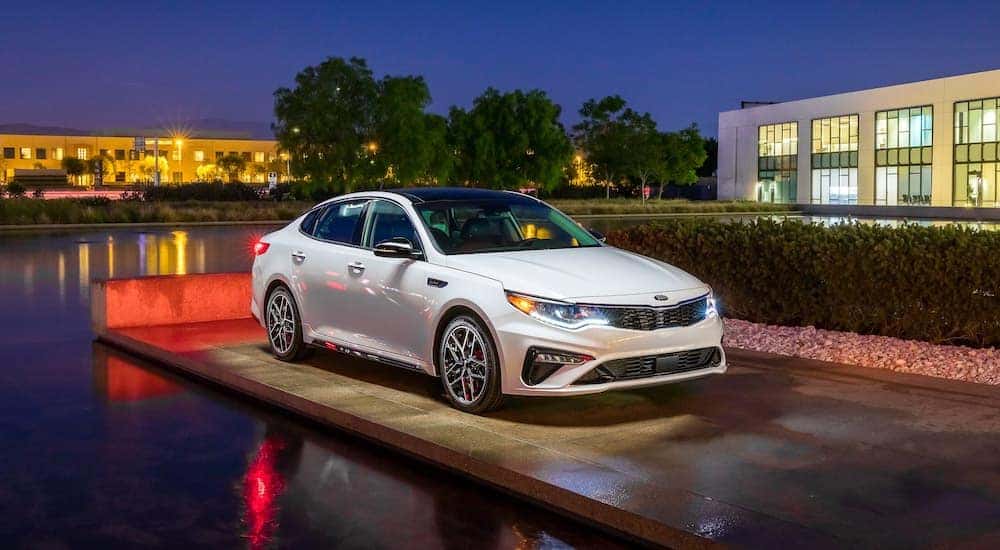 #2 Kia Optima
Every year it seems Kia delivers on its promise to build affordable, reliable, and great looking vehicles. The company has always had a corner on value, but this is no more evident than in the sedan category. Take the Optima: launched at the turn of the century, the Optima is a high volume seller for Kia, averaging 100,000 units per model year since its debut. Safety is paramount to Kia, and the Optima holds its own, earning a coveted Top Safety Pick+ from the Insurance Institute for Highway Safety for model years 2016-2019, and a Top Safety Pick for 2014-2015. If you're looking for a classic sedan body style with a focus on safety, you'll want to take a closer look at the Optima.
#1 Toyota Camry
If there was one iconic sedan that could serve as the ambassador for the sedan category, it's the Toyota Camry. This top-selling midsize sedan captures the hearts of Americans looking for it all – style, fuel economy, reliability, safety, and comfort. The Camry delivers the most complete lineup of trims to satisfy the widest range of buyers. Whether your goal is value or lowering your carbon footprint, Toyota has an answer within the Camry lineup. It's been a favorite since the late 1970s and led the way for American automobile manufacturers to begin building smaller, more fuel-efficient cars. Looking to compromise nothing? Check out the Toyota Camry. Millions of happy Camry owners can attest to why this sedan is a no-brainer.
Trust CBS Quality Cars
Wow! That's an exhaustive list of options that includes something for everyone. If it's value and low cost of ownership you're after, focus on the Civic. If performance is high on your list, you'll want to test drive the Maxima and the Fusion. Whatever your criteria, once you've settled in on the perfect make and model sedan for your lifestyle and budget, your next task is to find the right model year and mileage. These two factors, more than any others, will determine your price. Your CBS Quality Cars dealer can walk you through each option and help you weigh the pros and cons of each, keeping in mind your list of criteria.