Used SUVs for Every Driver's Needs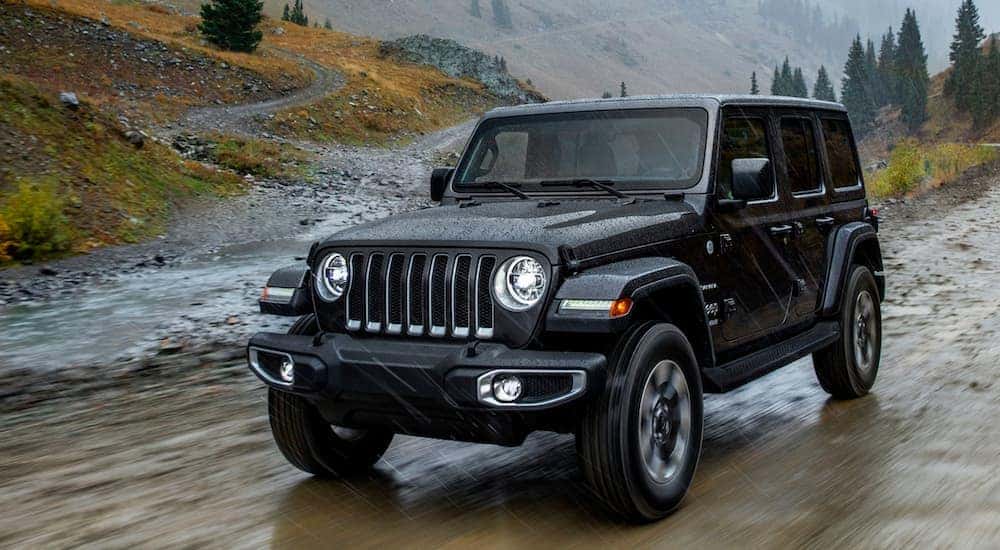 Whether you need a compact and fuel-efficient commuter or a family-friendly and tow-capable machine, there's an SUV out there for you. But when you type "used cars near me" into the search engine, the results may surprise you––there are so many brands and models that it can get overwhelming. You also have to consider your needs. Do you plan on going off-roading at all? Do you need something that can tow a medium-sized camper or nothing more than a small boat? Are you just looking for a commuter? Do you need something that offers a little bit of each of these features?
The questions and considerations can seem never-ending, which is why we've created a list of our most popular SUVs to help you narrow down your search. We categorized these recommendations based on their usage: whether they're great for off-roading, towing, commuting, or they're more of a mixed bag. These are just a few examples of what you have to choose from, but they'll help give you a good idea of what classification you need.
Off-Road-Friendly Used SUVs
Of course, the Jeep Wrangler is one of the first vehicles that come to mind when thinking of an off-road-friendly SUV. Now, the Ford Bronco follows closely behind. There are other off-roading SUVs out there as well, as many brands include an off-roading trim level in their SUV lineup. Whether you're a hardcore trail driver or you just want something that can handle the occasional dirt and gravel road, we've got some options for you.
Serious Off-Roading: The Jeep Wrangler or Ford Bronco
Hardcore off-roaders will want to stick with one of these two models. The trick is that there are several levels of capability within the Wrangler and Bronco lineup as well. The Rubicon Wrangler is your most capable off-roading option, with the Willys coming in at a close second. The Bronco's trims are all capable of heading off the pavement and instead include off-road-specific packages that enhance its capabilities. As you climb up the trim line, some of these packages become standard.
Both models include several "luxury" features. Some are standard, and some are optional. Overall, the Bronco does include more standard comfort and convenience features than the Wrangler does; however, the Wrangler's long-term success and reliable name do give it an edge over its competition.
Average Off-Road Travels: Toyota RAV4 TRD
If you need just enough off-road capability to head to camping spots or lakes, consider something less pricey like the Toyota RAV4 TRD Off-Road trim. As you'll notice, there are actually quite a few available Toyota RAV4 trims, so make sure you're looking at the TRD trim level. This model includes off-road-specific front and rear suspension, plus Dynamic Torque Vectoring AWD capability. Its AWD system includes four different drive modes as well, which include Mud & Sand, Rock & Dirt, Snow, and Normal modes.
This one is one of our "mixed bag" options that offers a nice balance of everything. In addition to off-road capabilities, the three most recent model years can tow up to 3,500 pounds, just like the four-door Wrangler and Bronco models can; however, it's much more fuel-efficient. For example, the 2020 Toyota RAV4 TRD gets up to 28 MPG combined with up to 35 MPG on the highway. Its compact size makes it lightweight and easy to maneuver while still allowing for up to five passengers. You also get the chance to make every passenger happy thanks to heated front and rear seating and dual-zone climate control.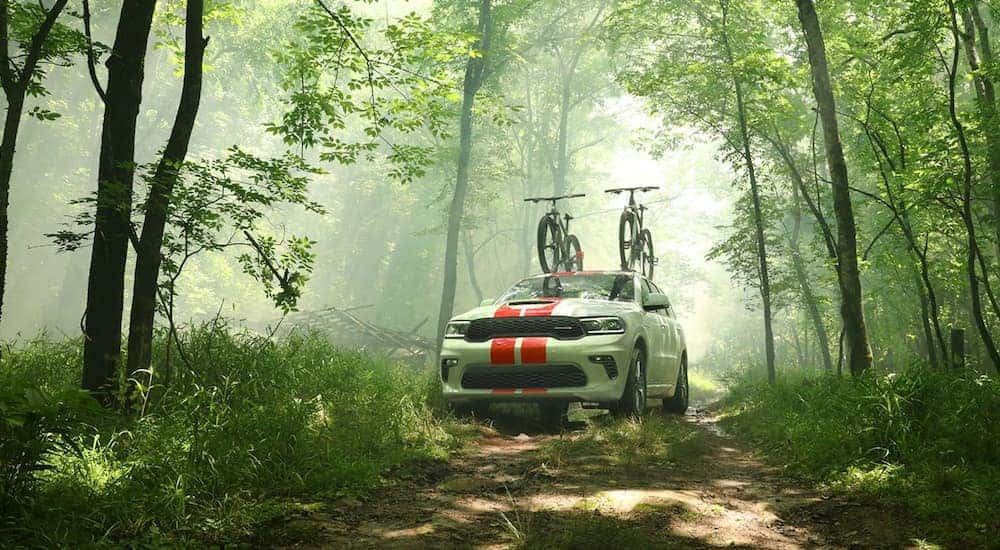 Tow-Capable Used SUVs
Most SUVs are tow-capable to some extent––even if that means that they can tow no more than 1,000 pounds. If you're looking to tow a decent-sized camper, however, you're going to need an SUV with a towing capacity of 5,000 pounds or more. Coincidentally, these heavier-duty SUVs also include more passenger and cargo space, making them even more worth the cost.
The Dodge Durango
The Dodge Durango is a great used SUV option for towing. The past four model years have an 8,700-pound max tow capacity. Even if you go after an older Durango model like the 2014 model year, you can tow as much as 7,400 pounds. This one comes with standard third-row seating as well, meaning that you can seat up to seven people at once. If you need more cargo and fewer passengers, you can access 84-85 cubic feet of cargo space when the seats are folded down.
This muscular SUV is loaded with power due to its optional HEMI V8 engines; however, keep in mind that if you can sacrifice a few thousand pounds of towing capacity, choosing the V6 Pentastar engine may be a better idea. The V6 option in the current generation can still tow over 6,000 pounds while reaching up to 21 MPG combined. Considering its reasonable fuel efficiency despite its powerful max towing capacity, the Durango certainly offers a nice mix of SUV-specific features. This one is easily one of our "mixed bag" options.
The Chevy Tahoe or Suburban
Chevy offers two popular full-size SUVs that both offer very similar tow ratings: the Suburban and the Tahoe. Both models offer similar towing capacity ratings of over 8,000 pounds depending on the model year, trim level, and engine choice. The key difference between these two models is that the Suburban does offer a bit more interior space than the Tahoe does. Either way, both models can seat several passengers, the Tahoe coming in at seven to eight people and the Suburban maxing out at nine passengers. These models aren't as fuel-efficient as the Durango, but they can tow as much and more than many midsize trucks can, giving them an edge in regard to power.
Small Commuter-Friendly Used SUVs
Maybe you don't need to tow anything larger than a small cargo trailer. Better yet, you may not need to ever tow anything at all. When that's the case, you'll want to stick with these smaller SUV models instead. Like all the other aforementioned vehicles, these models also come with plenty of standard and optional technology features such as Apple CarPlay, Android Auto, and driver assistance features.
The Nissan Rogue
If you're on a budget and are looking to save money, the Nissan Rogue is an excellent choice. A used Nissan Rogue can get roughly 30 MPG combined and can tow 1,000 pounds and sometimes up to 1,500 pounds, depending on the model year and configuration. The Rogue offers AWD capability and includes a standard safety suite, providing plenty of capability and technology at no added cost.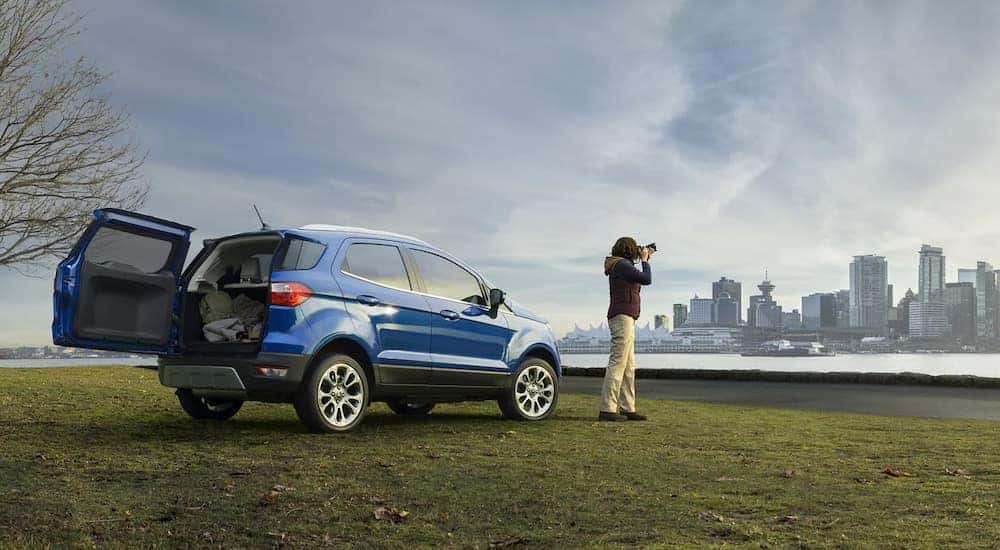 The Ford EcoSport
We recommend the Ford EcoSport for commuters as well. This model is often cheaper than the Nissan Rogue, and it offers a bit more tow capacity, maxing out at 2,000 pounds. The downside to its higher tow capacity is that its fuel economy rating is a bit lower than the Rogue's, but if you need more power, it's the better option.
Finding the Right SUV to Match Your Lifestyle
Now that you know a bit more about all the different SUV classifications and what they're best suited for, it's time to make a final decision. It's easy to choose the wider category––whether you need a serious off-roader, a semi-capable off-roader, a tow-ready machine, or a simple commuter. The larger challenge is picking which make, model, and trim level you want within that category.
That's where we can help. At CBS Quality Cars, our team knows all the ins and outs of each model and can answer any questions or concerns you may have. If you want our advice on which model best suits you, we've got opinions to share. We look forward to helping you bring home the perfect SUV for you and your family.