Work While You Work and Play While you Play: The Chevy Silverado 1500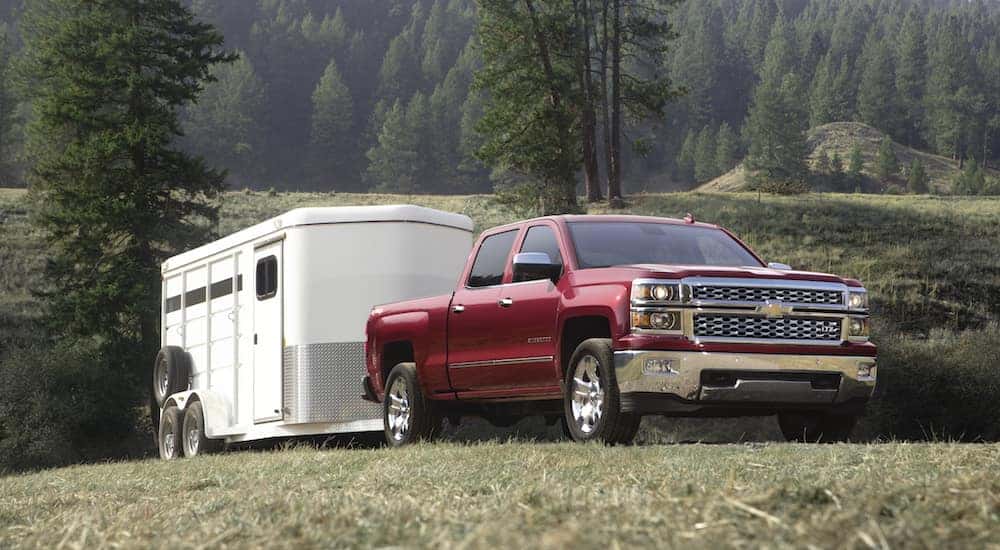 Looking for a used pickup, now are you? There are certainly lots of wonderful options here in Durham. But where do you even begin, with all of the impressive specs, performance capabilities, technology features, and more to choose from? It sure isn't easy. Or is it? The truth is that, sometimes, there just is one used truck that stands taller than the rest. Sometimes there is one that combines all of the qualities you want at the highest possible level into one single truck that stands out among the other Durham used cars. Does that sound like the vehicle you're looking for? If you answered "yes" to that question, then let's talk about the Chevy Silverado 1500 and why it may be the right model for you.
There's a lot to choose from when looking for used cars in Durham, but we feel strongly that if you're in the market for a pickup, then the Silverado 1500 is the way to go. Our reason for feeling this strongly about the Silverado is threefold: it is about as highly-performing as a pickup can come, it is an outstanding off-road vehicle, and Chevy is a leader in safety technology, making for a safe ride for you and your passengers. We hope that you will take our word for it, but just to help you see more clearly, we're going to walk you through these three elements of the Silverado in more detail.
A Performance Masterpiece
Where do we even begin? Well, let's begin with the 2019 Silverado 1500, the first model year of the current generation. Now three model years old, this version of the Silverado offers high value and high performance. One of the highlights of the current generation was the introduction of the first Duramax diesel engine in a light-duty Silverado, although it didn't actually arrive until the 2020 model. This 3.0-liter turbo-diesel is built with six inline cylinders and hypereutectic aluminum pistons, making this engine very smooth. But don't let the word "smooth" make you think that it's only meant for comfort and not for work; absolutely not – with 460 pound-feet of torque, this engine is a real workhorse.
If you are looking for maximum power out of the 2019 model, or if you simply prefer gas engines, then you'll want a Silverado bearing the 6.2-liter EcoTec3 V8 engine. This big boy, which is equipped with dynamic fuel management, enables the Silverado 1500 to offer 420 horsepower and 460 pound-feet of torque. Yep, those numbers are correct. The EcoTec3 V8 is complimented by 10-speed automatic transmission, making the vehicle quickly adaptable to its driving environment, and it also provides the vehicle with a maximum towing capability of up to 13,300 pounds. Got a big trailer? It looks like it has just met its match.
Now, if you're less worried about horsepower and are more concerned about fuel economy, then you will want to obtain a Silverado with the 2.7-liter turbocharged engine, which provides the vehicle with an EPA-estimated fuel economy of 20 miles-per-gallon in the city and 23-miles per gallon on the highway. You certainly don't see numbers like that every day in a pickup. Other engine options include a base 4.3-liter V6 and a smaller 5.7-liter V8, which offer a nice balance between capability and efficiency.
Now, since we mentioned towing, we will note here that the latest-generation Silverado 1500 is equipped with some of the most impressive towing safety/convenience technology you will find in any vehicle anywhere. We will cover that in more detail when we discuss technology in just a few moments, so read on to learn more.
But, back to the topic at hand, we think that, after sharing with you the numbers we just shared, it goes without saying that a used Silverado 1500 is a good truck, a high-quality truck, a truck worth buying if you anticipate doing any significant work in your pickup. Chevy is always advancing its automotive engineering and technology, and the way it has given so much attention to refining the intricate details of the Silverado shows how strong of a brand Chevy is and how strong of a vehicle the Silverado is. This has always been a great truck, but Chevy just keeps making it better, always finding new ways to advance it for drivers.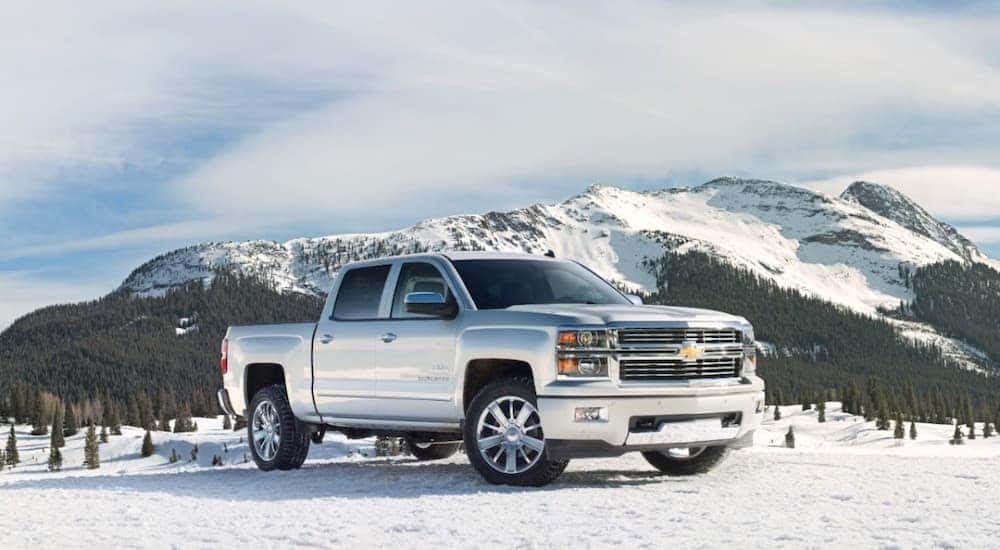 Off-Roading Capabilities
Well, if you're looking to combine off-roading and the Silverado 1500, then we know just where to look. Unfortunately, you will not yet be able to find this one used, but it certainly is worth writing about, as it is one of the hottest topics in the Chevy world right now. We are speaking, of course, of the all-new 2022 Silverado ZR2. This trim maintains all of the impressive capabilities that we have come to know and appreciate in the Silverado 1500, and it takes all of that and makes the Silverado one of the most impressive off-roading vehicles on the market.
This made-over Silverado bears an even bolder stance than before, showing on the outside the newly-crafted strength on the inside. The body of the ZR2 rests atop 33-inch Goodyear Wrangler Territory mud-terrain tires, which, as the name suggests, are specially built to trudge through deep mud and easily clear mud from the tires. These bulky tires provide a firm foundation for a hearty vehicle, which is equipped with skid plates that make for optimized off-roading, no matter what kind of terrain you're traversing. Still bearing the 6.2-liter V8 engine (which, we will repeat, provides 420 horsepower and 460 pounds-feet of torque… just saying) is provided with a healthy flow of air by way of the front grille's signature "flowtie," which makes the classic Chevy bowtie part of the grille itself. The engine is able to breathe easily due to dual exhaust outlets, which are hidden so as not to disrupt the sleek look of the truck.
If you can't wait a couple of years for used ZR2 models to start showing up on the market here in Durham, then we suggest you hunt down a Custom Trail Boss or an LT Trail Boss equipped with the Z71 Off-Road Package. These models are easily identified by their bright red tow hooks and 2-inch factory suspension lift – a necessary feature when venturing off-road. The 18-inch wheels come stock with mud-terrain tires, just like the ZR2, although used models may have been equipped with even more aggressive options by their former owners. A less obvious feature of the Z71 package that is just as vital for off-roading is the automatic locking rear differential, which provides incredible traction in any situation.
Enhanced Safety Technology
This may, surprisingly, be the most exciting topic out of the three. Sure, safety technology does not provide the same thrill as 420 horsepower or adventurous off-roading capabilities, but it does drastically affect your driving experience, and it could make all the difference in a crucial moment. So don't write it off too quickly.
When it comes to the Silverado, safety technology is a two-fold topic. Fold one is the safety features of Chevy Safety Assist, which offers features such as parking assist, lane keep assist, a rear camera mirror, automatic braking, and other impressive safety technologies. Fold two, however, is the Silverado's highly-impressive trailering technology, which serves to make pulling a trailer both safe and easy for you (a welcome change to anybody who has ever struggled with a trailer before).
To begin with, there is the trailering camera technology, which is able to provide up to fifteen camera views pertinent to your trailer. Of the fifteen views, there are three categories: four hitch views, six driving views, and five parking views. Below is a selected highlight from each respective category:
Rear top-down view: this angle displays the clearance space between the pickup bed and surrounding objects, making it easy to hatch your trailer single-handed.
Transparent trailer view: this amazing camera view is just as cool and impressive as it sounds; it allows you to literally "see through" your trailer to observe what is behind it.
Bowl view: this tech-advanced feature provides a 3-D graphic surround-view image of the vehicle, allowing you to see your positioning and execute low-speed reverse maneuvers with more efficiency.
The Silverado 1500 certainly is a cut above when it comes to safety because it not only provides common safety features for everyday driving but it also seeks to make trailering easy for you. There's a reason to go with the Silverado right there.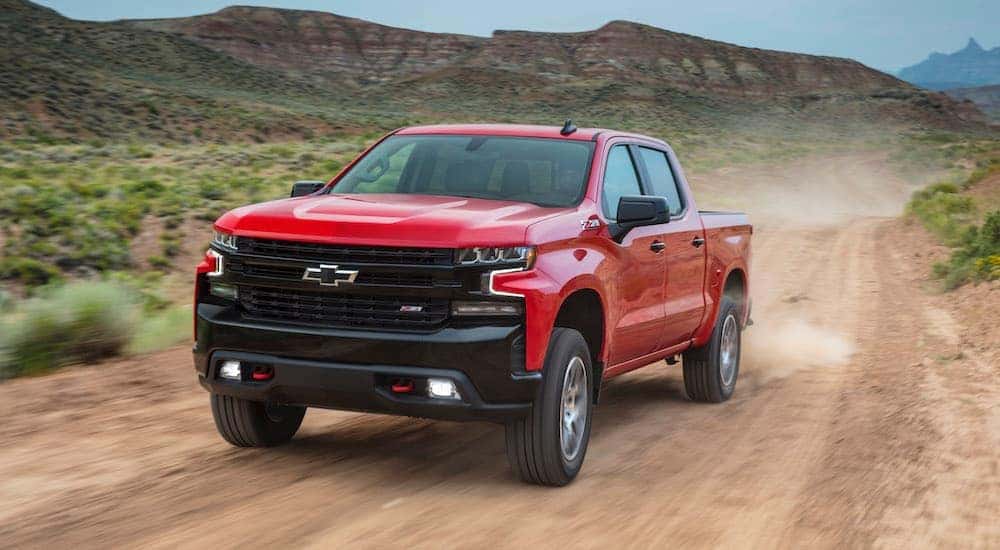 Is It Really Right for Me?
We think so. But we also can't make the final call. You'll have to get behind the wheel of a used Silverado for yourself and make an informed decision. But, what we can say is that the Silverado 1500 is one of the best-performing vehicles on the market. From towing to off-roading, Chevy seeks to make your favorite activities safer and easier than ever before. The Silverado is a truck designed for work and for fun. If you come in today, we'll get you behind the wheel and let you see everything this great used truck has to offer to Durham drivers.