Yesterday and Today: How the Ford F-150 Has Changed in the Past 5 Years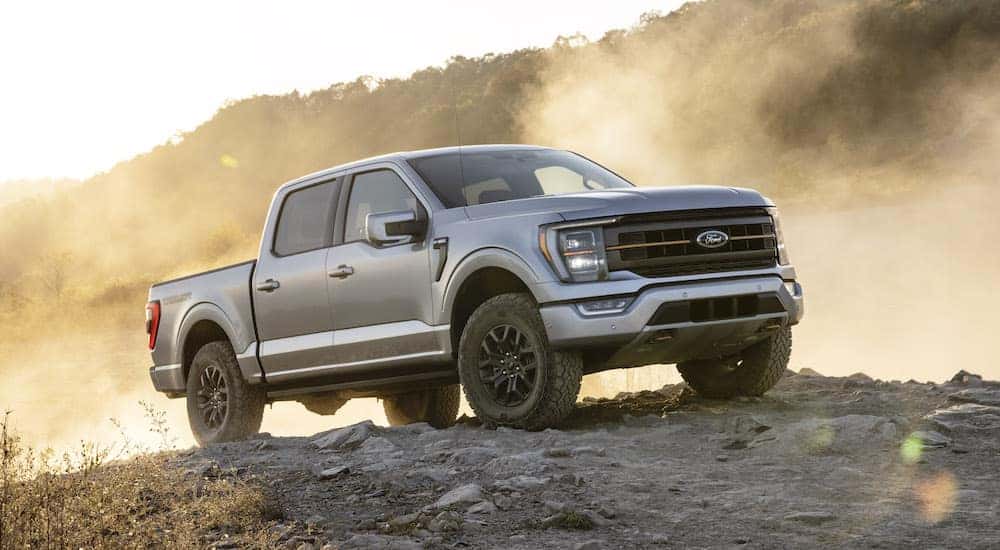 The Ford F-150 is not a new vehicle. In fact, it's been around since 1975, making it a familiar name for several generations of drivers. Furthermore, it's one of the most beloved pickup trucks on the road today. While there are certainly plenty of rivals in the pickup truck segment, Ford has found some sort of magical formula that makes drivers eager to start their truck shopping process with the F-150. New and used F-150s are equally desirable since mileage is nothing but a number to this venerable truck.
For drivers who are looking specifically at used Ford F-150 trucks, it's not a bad idea to take a look at how things have changed over the past five years. Spoiler alert: the F-150 has only gotten more capable, convenient, and dependable. Let's take a look at the past five years of the Ford F-150, including the fun, the features, and what makes a Ford a Ford. If you find yourself running to CBS Quality Cars to find a used F-150 near you, you won't be disappointed. You'll have a solid foundation to look forward to with your new-to-you truck. Read on to discover how some of the best attributes of the F-150 have made Ford a brand to trust.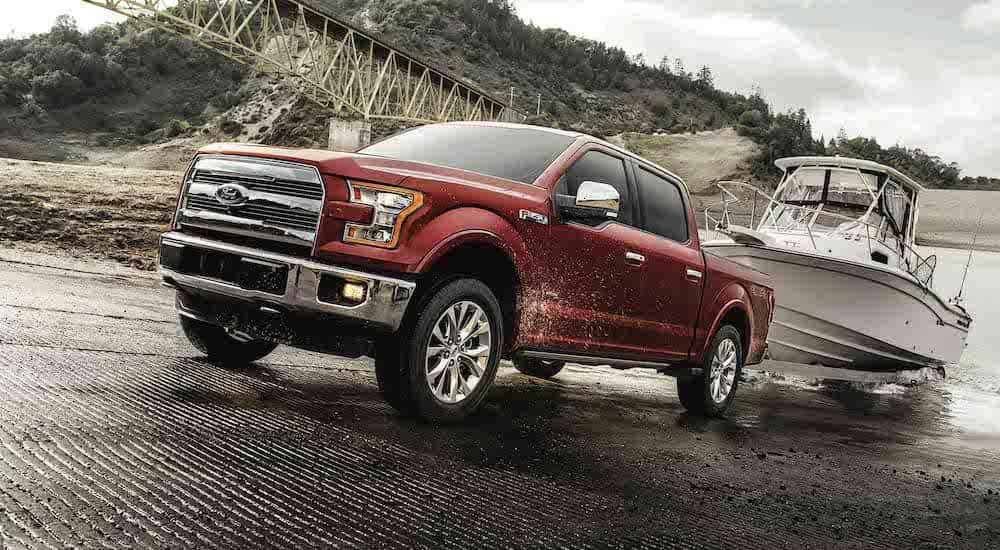 Introducing the 2017 Ford F-150
Let's hit the rewind button and journey back to 2017. The Ringling Bros. and Barnum & Bailey Circus performed for the final time, Americans were looking forward to being able to watch a solar eclipse, and Ford made some pretty important changes to the famous F-150 pickup truck.
Ford had only switched to a lightweight aluminum body combined with a high-strength, fully boxed hydroformed steel frame in 2015, so drivers were still a little unfamiliar with the idea of a lightweight pickup being so powerful. Remember, we didn't have the Ford F-150 Lightning then, nor were many of us contemplating the possibility of an electric truck. We just wanted to be able to move heavy loads, get where we needed to go, and not spend any unnecessary money doing so.
In fact, Ford offered a very capable standard engine for the 2017 model year in the form of a 3.5L V6 capable of producing 282 hp and 253 lb-ft of torque. The standard V6 wasn't a bad choice for many drivers, though there's something to be said about the available twin-turbocharged 3.5L EcoBoost V6, which was tuned to 450 hp and 510 lb-ft of torque for the Raptor trim.
The Raptor trim was still young in 2017, having taken a two-year hiatus after only just getting its start in 2010. The F-150 Raptor received a major update for its revival in 2017, gaining 6.4 inches in width compared to the standard F-150 for more stability. Other added features include advanced four-wheel drive, a 10-speed automatic transmission with paddle shifters, long-travel suspension, racing shocks, and adjustable drive modes.
The 2017 Ford F-150 was very much a capable vehicle and continues as such, largely due to Ford's fantastic engineering. Standard features such as Hill Start Assist and Trailer Sway Control proved that this was a vehicle that could work hard from the moment you got behind the wheel. While the base XL and XLT trims weren't decked out in all the bells and whistles, the Lariat, King Ranch, Platinum, and Limited included heated seats, leather upholstery, keyless entry, and built-in navigation.
Maintaining Legendary Status
When you've created something that the public instantly loves, you have a very important choice to make: do you stick with what you've got, or do you pursue constant innovation? Ford has managed to do both over the past five years. Ford has made quite a few updates to the interior, exterior, and performance of the F-150, leading to a few differences in what you see and what you get.
The standard 3.5L V6 from 2017 was replaced with a 3.3L V6 that continues to power base models of the F-150 to this day. With more horsepower and torque than the 3.5L V6, this engine also had better fuel economy than its predecessor, making its entry into the lineup a good thing for everyone. A 3.0L turbodiesel V6 also appeared in late 2018, marking the first diesel available under the hood of a Ford F-150.
Ford also tuned up the F-150's capability. With an increased towing capacity of 13,200 lbs, the 2018 F-150 earned best-in-class status. Today's F-150 surpasses even that, with the ability to tow up to 14,000 lbs when equipped with its 3.5L EcoBoost engine. By 2019, the F-150 claimed best-in-class honors for towing, payload, and horsepower, making it even more capable for drivers who need the ultimate in performance.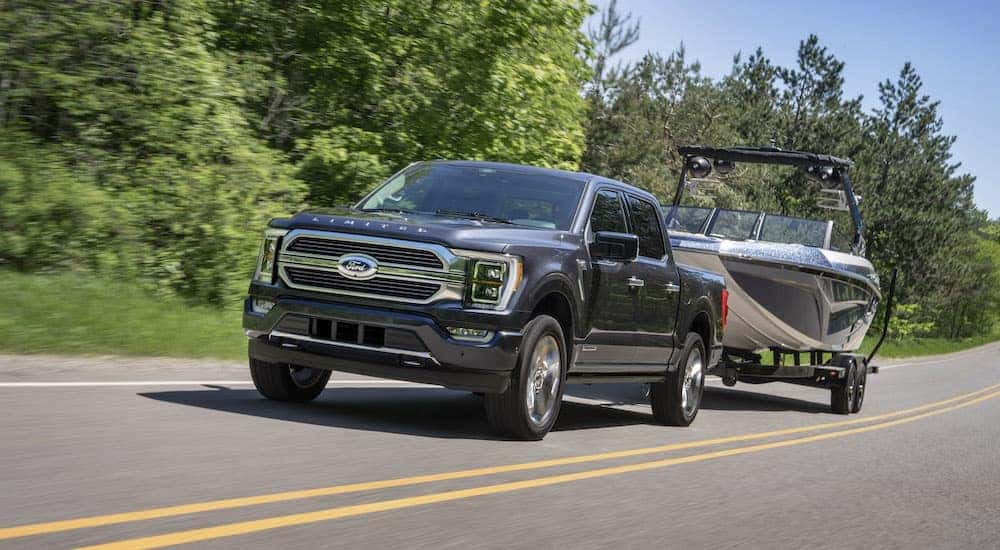 Something for Everyone
While the 2022 Ford F-150 continues to be offered in XL, XLT, Lariat, King Ranch, Platinum, Limited, and Raptor trims (the Tremor joined the lineup in 2021), 2018 marked a crossroads where the King Ranch trim and above ascended to the next level, with experts referring to them with terms like "mobile corner office," "executive seating," and "limousine-like luxury." Features such as heated, ventilated, and massaging front seats became available, and you didn't have to travel too far up the trim levels to access features like a premium Bang & Olufsen audio system. Ford's reputation for providing excellent value for budget-minded drivers was solidified with the addition of more standard features than its competitors.
Offered in seven trims with six potential engine options, three bed lengths, and three cabin sizes, the 2018 Ford F-150 is extremely customizable as well. Packages such as the FX4 add a bit of the Raptor's off-road capability and dependability to lower trims, while comfort and convenience features such as adaptive cruise control and premium audio systems are available through a variety of technology packages.
Starting in 2020, the Ford Co-Pilot360 suite of safety and driver assistance equipment became standard in the Lariat trim and above. Today, features such as automatic high beams and a rear-view camera with a hitch view are standard on most trims. The Ford Co-Pilot360 package of safety features is also standard and includes valuable technology like a Lane-Keeping System and a Blind Spot Information System.
A Ford F-150 for Every Driver
While it's true that not every driver may want or need a truck like the Ford F-150, the model has developed over the past five years to offer an astounding array of offerings that may tempt any driver. Massaging front seats? A foldable work surface that turns your cabin into a fully-functioning office? Power outlets in the bed? Every time the question "what will they think of next?" comes to mind, Ford has an answer in the F-150.
Surely the Ford F-150 will go down in history as one of the most beloved pickup trucks of all time. With the new hybrid PowerBoost and all-electric Lightning versions joining the lineup, it appears that excitement for the F-150 is at an all-time high. As the truck where clever innovation meets classic dependability, it's no wonder drivers trust the F-150. It could practically be considered a collector's item, but a used F-150 is definitely not something to be put on a shelf and admired from afar. Instead, it prefers to work hard for a long time to come.