Should Your Next Used Car be a Ford or a Chevy?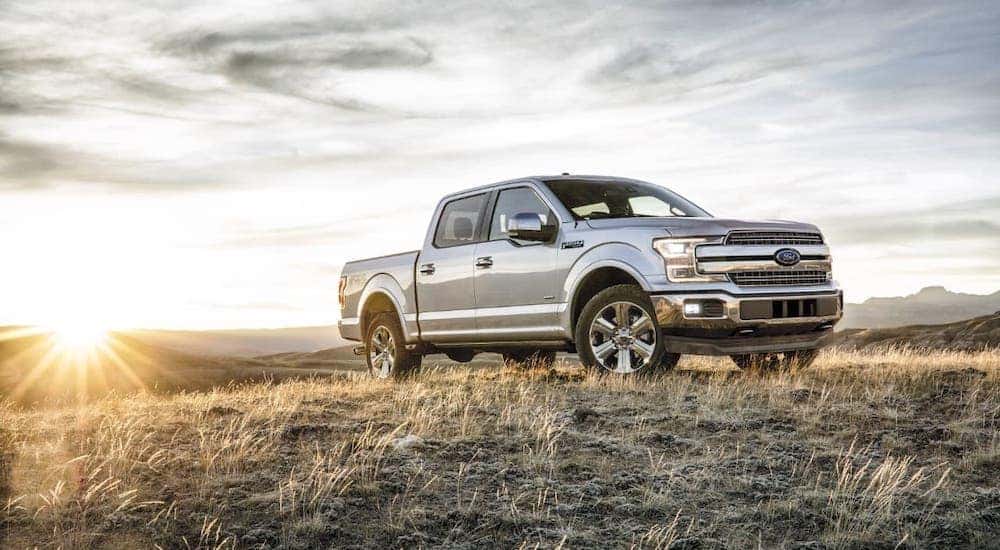 There is no denying it: Buying a used vehicle is the best way to get more for your money. And while searching "used car dealership near me" online, you may be wondering which manufacturer you should focus on. And two of the best values you're going to find on the used market are trucks, SUVs, and cars manufactured by Ford and Chevy. These two automakers have some of the largest and most diverse lineups of vehicles on the road today, from subcompacts up to heavy-duty pickup trucks. Plus, they feature some of the best automotive engineering with strong attention to safety and detail derived from over 100 years of experience.
Some of the newer models will even come with an infotainment system that integrates your vehicle's stereo with Bluetooth connectivity on an easy-to-use touchscreen. Ford offers its amazing SYNC system, while Chevy has the Chevrolet Infotainment System and Chevy Connectivity. Each of those will provide you and your passengers with hours of fun and entertainment. But there is much more that comes into play with a comparison like this one. So, today, we at CBS Quality Cars in Durham, NC, are going to break down which manufacturer, Chevy or Ford, is superior in terms of trucks, SUVs, and cars, to aid you in your used vehicle search. So, let's get into it!
Used Ford Trucks vs Used Chevy Trucks
For many folks, hearing Ford or Chevy brings pickup trucks to mind. That's because these two companies make some of the best trucks on the road today. Whether you are buying for business or pleasure, a Ford or Chevy truck has the power, performance, and dependability that you know will get the job done.
The Ford F-150 is the flagship model, a full-size pickup that is Built Ford Tough, with plenty of payload for your cargo, the strength to handle most trailers, and three different cabs to choose from. Plus, for those who need the ability to tow bigger loads, Ford offers heavy-duty models like the F-250, F-350, and the F-450. These used trucks are ready, willing, and able to tow your heaviest trailers.
Chevrolet also has a great lineup of trucks that you can get a great deal on if you buy used. For many people, when they think full-size pickup, the one name that jumps out is Silverado. There are plenty of options to consider when buying a used Chevy Silverado 1500, from engines to trims and payload beds. With so many configurations to choose from, you should have no problem deciding on the Chevy Silverado 1500 for one. And just like Ford, if you need more power than a used Silverado 1500 provides, you can choose from a used Chevy Silverado HD 2500 or 3500.
If these full-size trucks are more than you need, you can always buy a used midsize Chevy Colorado. This is a fun truck to drive with plenty of its big siblings' ruggedness but in a smaller package. There is plenty of payload capacity to carry whatever you may find at the local hardware store. In addition, the Chevy Colorado medium truck is getting an updating for the 2021 model year. This will be the third generation in Chevrolet's line of medium trucks. What that means for you is that you can get a great deal on older used Chevy Colorados. Whenever a new generation of vehicles comes out, it tends to depress the price of used models from the prior generation. So, if you're looking to buy a midsize pickup truck, your best bet might be to buy a used Colorado from the second generation, which initially debuted in the 2012 model year. Meaning, Chevy very well could be the better option for used trucks.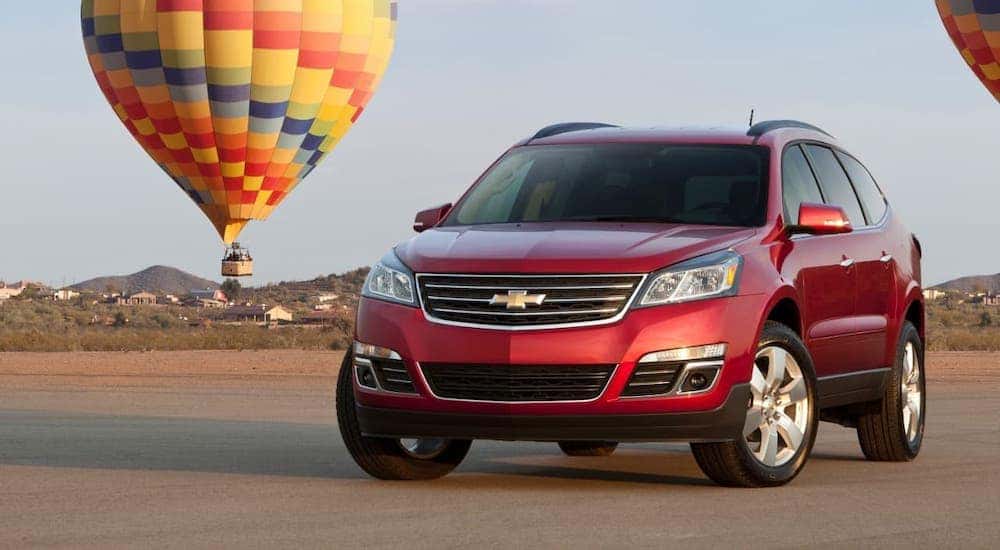 Used Ford SUVs vs Used Chevy SUVs
Ford has a great lineup of SUVs, and you can find a great deal on many of them if you are buying used. If you want something small, sporty and economical, a used Ford EcoSport would be an ideal vehicle, offering incredible fuel economy. If you are more in the market for a midsize SUV with plenty of room, then a used Ford Escape or Edge is a great choice. The Escape will give you better fuel efficiency while the Edge has more room for you, your passengers, and your stuff. Whichever you choose, you will be buying a stylish SUV with exceptional performance at a great price. Keep in mind that Ford SUVs are front-wheel drive standard. So, if you want the increased traction afforded by a four-wheel drivetrain, make sure to check for this when you are buying a used Ford SUV.
Sometimes you need extra space for more than five passengers, and this is where you need a three-row full-size SUV. Three of the best that you can find for sale used are the Ford Explorer, the Chevy Traverse, and the Chevy Suburban. The Explorer and Traverse are relatively comparable, with plenty of room in their three rows of seats. The Suburban is the largest, with enough room for a full cargo load, even with the three rows filled with passengers. The Traverse and Suburban are undergoing a significant facelift for 2021, so you can find a great deal on both used models. Whichever of these three you choose, you will be getting an SUV that doesn't compromise between size, performance, and comfort.
Ford recently discontinued the manufacturer of the Flex crossover. This was unfortunate because this three-row SUV with futuristic lines represented an extraordinarily innovative vehicle. Of course, Ford's loss is your gain because you can find plenty of these excellent SUVs on sale used at great prices. This allows you to get a great vehicle that can fit up to seven passengers with all the latest innovations. With that said, in terms of SUVs, Ford seemingly has more to offer on the used vehicle market.
Used Ford Cars vs Chevy Used Cars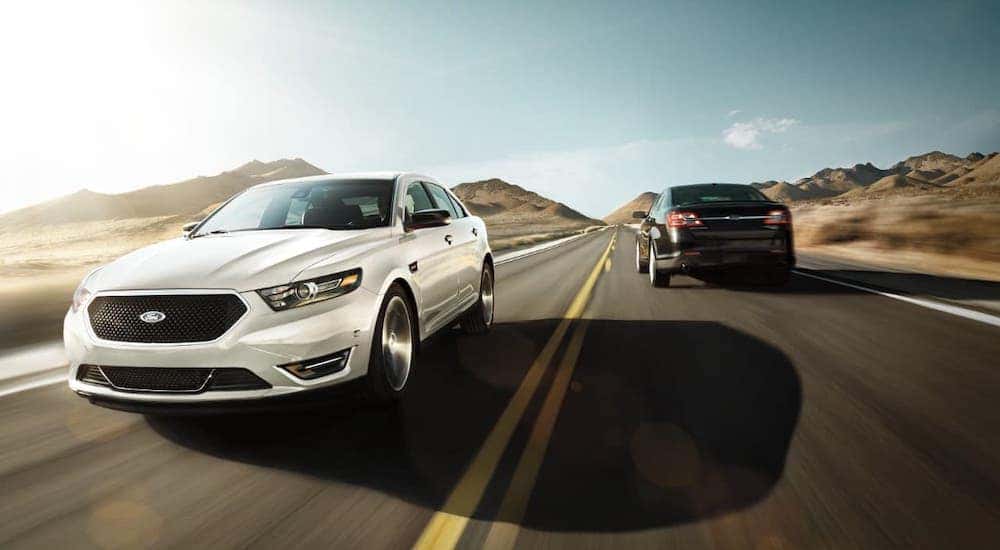 One of the best and most affordable muscle cars on the market is the Chevy Camaro, and you can find a great one of these performance vehicles on sale used. If that is a little too much speed and power for you, you might be better served with a sedan, like a used Ford Taurus or Fusion, or a used Chevy Malibu, Cruze, or Impala. Each of these provides luxury, performance, and comfort that you usually find in more expensive import cars.
Don't let their American pedigrees fool you. These are well-built sedans with plenty of standard safety features and style to burn. Some folks require a second car for work. In this case, you are probably looking for dependability and great gas mileage, so a compact car like a used Ford Focus or Fiesta would be just what you are looking for. From their sporty exteriors to their surprisingly spacious interiors, these used compacts won't set you back much at the dealership or the gas station. These are the ideal second-car options for commuting to and from work.
The End: Chevy or Ford?
Whether you choose a Ford or Chevy, you will get an exceptional vehicle when you buy used. From the rugged pickup trucks like the Ford F-150 and Chevy Silverado 1500 to the SUVs like the Ford Flex and Chevy Traverse to the Chevy Camaro muscle car, these two automakers provide you with plenty of options when deciding on your next vehicle. Which is better? It totally depends on what you are looking to find.