Top Ten Reasons to Buy a Used Ram 1500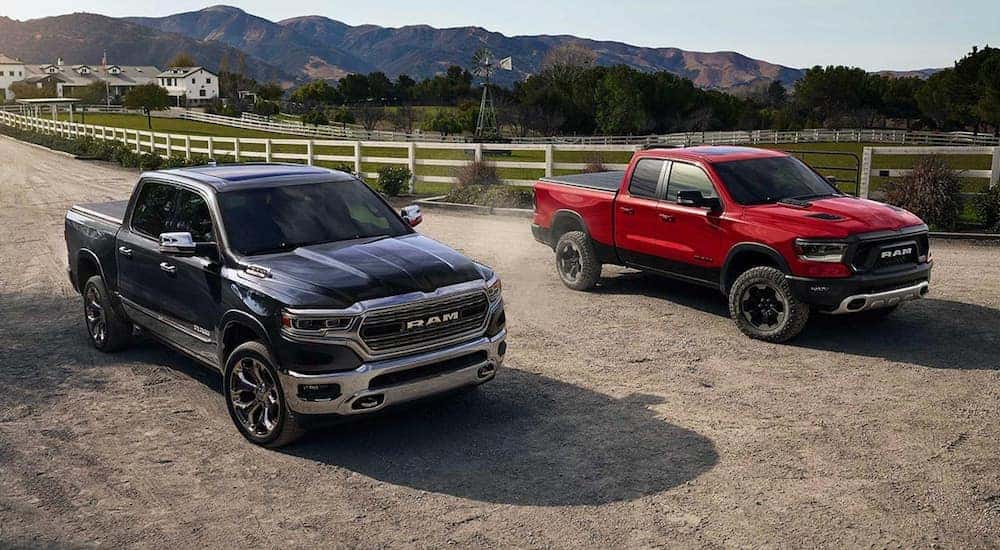 The fourth generation of Ram trucks brought significant changes for the brand, with Ram dropping the Dodge name and becoming its own stand-alone division within the company. At the same time, the Ram 1500 was completely overhauled and reimagined. The new Ram truck was different in many ways and not just because of its nameplate. If you find yourself searching for a "used car dealership near me," looking for a Ram pickup truck from this generation should be at the top of your list. The focus for this generation was on comfort and versatility, and fourth-generation Ram trucks were built to appeal to many different lifestyles.
From families looking for SUV-like utility to professionals looking for a daily driver, the Ram truck was ahead of its time in offering so much versatility. The fourth-generation represented a shift from focusing solely on max payload and towing to Ram, focusing their engineering efforts on what people actually need from a vehicle in the modern world. So let's take a look at the top 10 features that defined the fourth-generation Ram truck, and see if this is a vehicle that works for you or your family's lifestyle. In many ways, this is the perfect vehicle, able to do anything you ask of it.
#1: Smooth Ride
With its class-exclusive coil-spring rear suspension and available self-leveling air suspension, the Ram 1500 drives like a luxury car, not a jittery truck. Ram was the first to depart from the traditional leaf-spring rear suspensions of other trucks, which descend from horse-and-buggy technology. They then adopted a much more refined technology that not only provides a smooth ride but can also stand up to heavy payload and towing demands. While you have the capability to tow and haul with the best of them, you also can tackle carpool duty. Your kids will appreciate the spacious back seats and emphasis on technology as well, but more on that later.
This class-exclusive suspension brings a quiet ride regardless of the road (or lack of) surface, ensuring a comfortable ride for all of your passengers no matter where the road leads you. The air suspension improves the ride, handling, and ground clearance. With the push of a button, you can lower the Ram's cabin to permit easy entry or raise it to clear obstacles.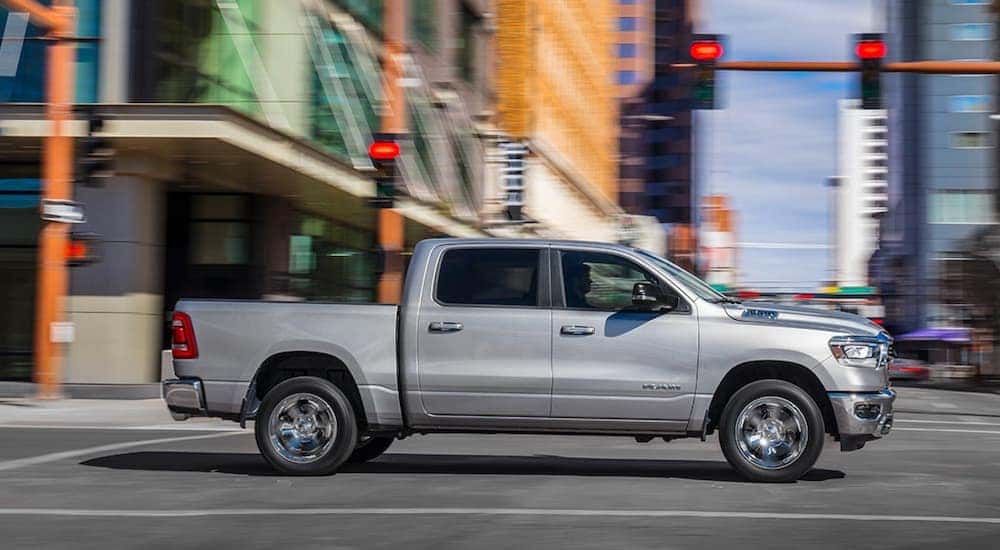 #2: Technology
It's no surprise that the 2009 Ram 1500 won truck of the year. With its class-first technology and safety advancements, the Ram 1500 was ahead of its time with the introduction of the fourth generation. This is a generation of the Ram pickup truck that could be mistaken for a luxury truck. Consider some of the many options you will find while searching for a used Ram 1500: Uconnect Access infotainment system, an 8.4-inch touch screen with a user-friendly interface, a heated steering wheel, 10-way-power driver's seat, and rain-sensing windshield wipers. A Voice Recognition System is also available and allows you to interact with the onboard technology. And this is just a sample of what you find in Ram trucks—all the comforts of home, wherever you go.
#3: Fuel Economy Plus Hauling Capacity
One of the priorities for the fourth-generation Ram engineers was building a truck that not only had serious hauling capacity, but that also returned excellent fuel efficiency. The result of their R&D were features like shutters that close the front grille to reduce drag, an 8-speed transmission, and a turbodiesel engine. These advancements not only increased fuel efficiency, but they increased the hauling performance as well. The 3.0-liter turbodiesel V6 engine was unique to half-ton trucks, and with 420 lb-ft of torque and incredible gas mileage (19/27 MPG), its versatility is truly impressive.
#4: RamBox
One of the most useful innovations of the Ram was the RamBox. The 2009 Ram 1500 was the first to include this, and it featured a first-in-segment cargo management system with weatherproof, lockable, illuminated, drainable storage bins, pickup bed dividers, a two-foot bed extender, and a cargo rail system with sliding adjustable cleats. The system runs the length of the pickup bed, and the bins are as wide as the wheel well. They are large enough to hold items such as a set of golf clubs, a small air compressor, toolboxes, kayak paddles, fishing rods, and chainsaws, or your favorite beverage cans and ice.
#5: Engine Options
If you like selection and appreciate many powertrain options, this generation of Ram 1500 has a lot to offer. From a 3.7-liter V6, a 4.7-liter V8 with 310 hp, or a 5.7-liter Hemi V8 with close to 400 hp, you will not be disappointed. Manual and automatic transmissions were available as well. If you're looking for a diesel engine, the EcoDiesel launched for the 2014 model year and featured over 400 lb-ft of torque and excellent fuel efficiency. It is definitely worth researching these impressive powertrains to find the one that best matches your needs and lifestyle.
#6: Rebel 1500 Off-Road Package
The Ram's off-road trim, the Rebel, won 2016 Pickup Truck of the Year, and features Bilstein shocks and 17-inch wheels with all-terrain tires—and that's just to start. Anti-Spin rear differential and a 1-inch factory suspension lift are also included. All of these features, and many more, combine to create one smooth dirt machine that's ready for your next on- or off-road adventure.
#7: Passenger Space
Trucks often lack space for your passengers, prioritizing bed space for your work duties over domestic demands. But the Ram 1500 can accommodate both. With up to 125.3 cu.ft of interior space, the Ram 1500 Crew Cab has plenty of space for driving your friends and family around, as well as for tackling weekend projects. Its spacious cabin offers plenty of room for cargo, and its large seats will keep passengers comfortable no matter how long the journey.
#8: Ram Uconnect
With many options available for the fourth-generation Ram, not only can you choose a truck with a bright and colorful 8.4-inch touchscreen, but you can also find a navigation system and Bluetooth compatibility. Depending on the year, you can also add onboard Wi-Fi and Apple CarPlay and Android Auto compatibility. This is a feature-packed navigation, entertainment, and communication system that lets drivers live their lives on-the-go while staying connected.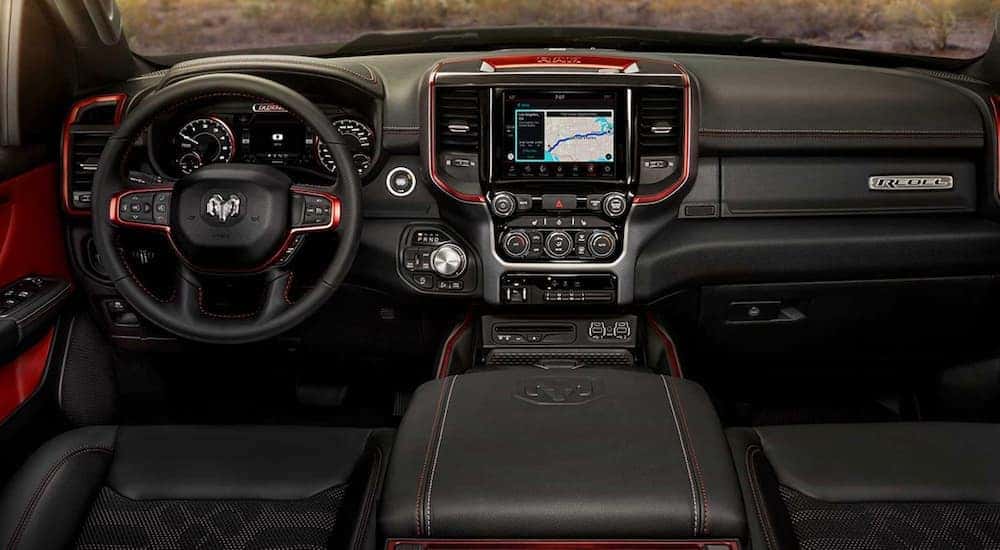 #9: Hemi Option
Ram trucks are famous for their Hemi engines, which are renowned for their reliability and impressive power output due to their hemispherical design. In fact, Richard Petty used one of the first versions of this engine to help launch his career, and in 1964 the Daytona 500 saw the first three cars finish with the 426 Hemi. This led to a rule change where you could no longer run an engine unless a street version of it existed. And now you can have one of most legendary engines of all-time in your Ram 1500.
#10: Safety
Ram trucks have always prioritized safety for you and your family. The list of available safety options is impressive: side airbags for the front seats, full-length side-curtain airbags, stability control, traction control, hill-start assist, and trailer-sway control, among other options. A backup camera, parking sensors, blind-spot monitoring, and an integrated trailer brake controller also are available. So you can be sure to find enough features to keep you and your family safe on the road, which is the most important thing.
What Are You Waiting For?
Our team at CBS Quality Cars in Durham, NC, is here to answer any questions you might have about any generation Ram truck or any other vehicle. You will not be disappointed with the high-quality vehicles and services at CBS Quality Cars. We're confident we can find you the perfect vehicle for your lifestyle at a price you can afford.
We look forward to meeting you!