Why Hyundai Elantra Is a Great Value to Purchase Used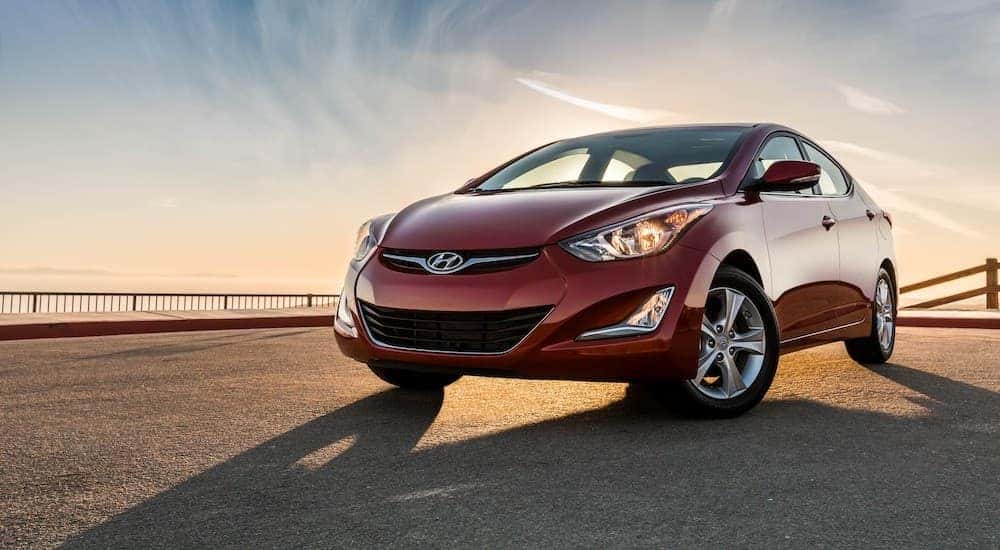 Are you asking yourself: what is the best used car dealership near me? Are you looking for a used Hyundai Elantra? You're smart to consider this well-appointed sedan. The Elantra has gotten some sleek styling and gained a little notoriety due to its design from Peter Schreyer, a former designer of Audi, but if you're a savvy buyer, you know buying used is a much better deal. To give you some tips on what you may find when seeking that perfect match, take a moment to learn about the features and styling of past Elantra years and generations. Keep in mind, Hyundai vehicles retain excellent resale value, so you know this is a vehicle made to last.
The 2018 Elantra
The 2018 models received a complete redesign of the interior and ride quality, including plenty of tech upgrades. There are six available trims for this year, and three different engines you could find under the hood. The base level trim is the SE, which has the least number of features and available options, though it still offers a desirable list of features. The remaining trims are the SEL, Value Edition, Limited, Eco, and Sport. Overall, the redesign for this year is appealing in relative simplicity and ease of layout.
For the SE, SEL, Value, and Limited trims, all come standard with the 2.0-liter four-cylinder engine with a six-speed transmission, the only option for these models. Do be aware the SE trim comes with a manual transmission unless it was upgraded to automatic. Other features of the SE trim are a six-speaker sound system, USB port, 60/40 rear folding seat, and AC. If the automatic transmission was added, you will also have cruise control, steering wheel-mounted audio controls, and Bluetooth.
The SEL trim will add heated side mirrors, blind-spot monitoring, rear cross-traffic alert, a rear-view camera, dual-zone auto climate control, a seven-inch touchscreen for infotainment, and Bluetooth audio streaming. This trim level also enjoys the Apple CarPlay and Android Auto integration; a tech feature the Elantra was one of the first to adopt when it was new. In the next trim level for the Value Edition, you add to the SEL the luxury of heated seats, a sunroof, and an auto-dimming rear-view mirror.
When moving up to the Eco, the name implies what you'll find under the hood: a more fuel-efficient engine. The turbocharged 1.4-liter four-cylinder engine has a seven-speed automatic transmission and has virtually the same features as the Value trim without the sunroof or auto-dimming rear-view mirror.
If you happen to discover the Limited trim for sale, you will find a slightly more luxurious sedan which has leather seats, three USB ports, and a feature that allows the control of basic car functions from your phone using Google. Finally, the Sport trim has similar features to the Limited, though the tuning of the rear suspension is firmer, a 1.6-liter four-cylinder engine is under the hood, the brakes are more responsive, and it comes with xenon headlights. It also has a flat-bottomed steering wheel to give this trim the sporty panache some buyers seek.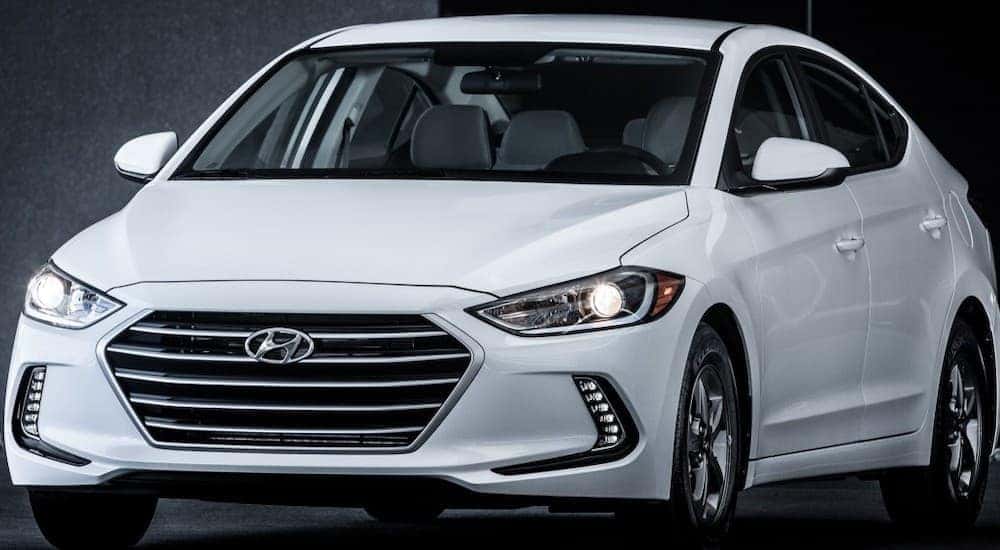 2016 Elantra
Like the 2018 models, the 2016 Elantra was redesigned with new features and appearance. This year comes in only four trim levels: the SE, Value Edition, Limited, and Sport. Like the 2018 model, an automatic transmission is an option, not standard. Similar features as 2018 will be found with this model year, but you could discover a base model with an equipment package which adds several features like fog lights, Bluetooth, and a rear-view camera, to list a few.
Moving up to the Value Edition, this trim level is once again similar to the 2018 model, though the Limited trim level does not keep the sunroof of the Value Edition, which is surprising. You will find LED accent and taillights, power driver seat with lumbar support, leather seats, and many more upscale features few other cars in this class will pack into their vehicles. If you happen to find a Limited trim with a package add-on, you might find one with a sunroof, touchscreen display, and onboard navigation.
Surprisingly, the Sport doesn't have leather seats, nor does it have a few other features found on the Limited, but the same firmness of controls and suspension will be found this year as with 2018. Of course, you do gain the more peppy 2.0-liter engine, but you could also discover a model with an added package to fill out the technology. Adding this package will deliver phone connectivity features like those listed with the Limited trim, among others. In reviews, the Sport is often a favorite for its responsiveness on the road.
2014 Elantra
For 2014, the Elantra once again receives updates that continue to impress. This is the year the Sport trim is added, though only three trim levels are available overall: the SE, Limited, and Sport. Perhaps because there are only three trim levels, the SE has more standard features in this older model than you may find on the newer ones, which may not have added packages. Heated mirrors, cruise control, and powered accessories are all included for 2014, though it could have added Bluetooth, a rear-view camera, and heated seats if the original buyer opted for a package.
In the Limited trim, you add fog lights and taillights, leather seats, powered driver seat with lumbar support, and even heated rear seats. A tech package could be an option purchased for this trim, which would add a seven-inch touchscreen, dual-zone climate, and onboard navigation. To the list of attributes in the Limited, the Sport adds the 2.0-liter engine, which continues through to the following model years. Also, this year gives the sunroof to the Sport trim, along with keyless ignition and entry.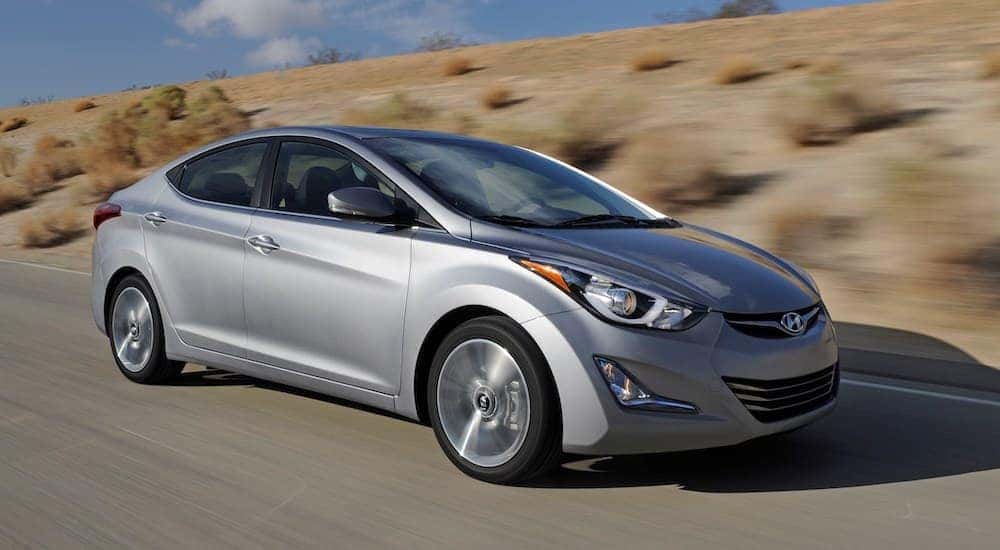 Other Hyundai Features
Beginning in 2014, Hyundai redesigned the Elantra to have a quieter cabin, which holds true through the newer models. Regardless of the year, the Elantra has been celebrated for its streamlined comfort and well-designed interior, as well as a bevy of technology and features often not found in competitors of the class. If buyers are seeking a vehicle that offers a lot of excitement, the Sport is the best trim level to seek. All of the Elantra sedans have been praised for the amount of interior space, which is unusual for a car considered to be compact.
Every model year will enjoy good ratings for safety in crash tests, and Hyundai sedans are built to be fuel-efficient. Anyone interested in savings over and above the typical efficiency of most models may want to look for the Eco model available in 2018. In general, the Elantra will probably surprise those who have never had the pleasure of driving a Hyundai, as the styling, abundance of technology, and interior comfort may be unexpected in a compact car.
Find This and More at a Used Car Dealership Near You
Quality of the Hyundai Elantras is undeniable, and this is a vehicle that holds its value over time. To discover just how enjoyable the Elantra is to drive, a test drive is best. Discover just how responsive the Sport can be when out on a winding road, or how much space you have available in the trunk when you pop it to look inside. When you hit the road with the sunroof open and the stereo streaming your favorite music, you may just find your next favorite car. When you are ready to test drive this model or another used vehicle, visit us at CBS Quality Cars in Durham, NC.